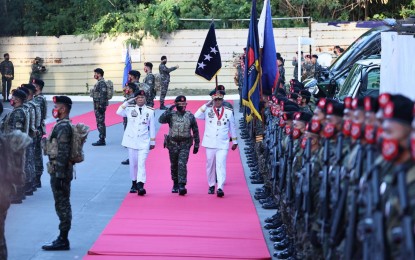 MANILA – The Philippine National Police (PNP) on Wednesday paid tribute to the supreme sacrifice of the 44 Special Action Force (SAF) commandos who were killed in an anti-terror operation in Mamasapano, Maguindanao eight years ago.
Speaking during the National Day of Remembrance for the SAF 44 in Camp Bagong Diwa, Taguig City, PNP chief Gen. Rodolfo Azurin Jr. said the fallen commandos' heroism would be forever etched in the books of the country's history.
"Like the generations of warrior heroes before them, our fallen SAF 44 gave everything they had, not for glory or recognition, but for something greater than themselves. The least we can do is to remember them and their ultimate sacrifice," Azurin said during the occasion which carries the theme "Legacy of Heroes: Inspiration of Future Generation".
Azurin said the legacy of the heroism of SAF 44 is not just a memory but an inspiration for future generations of police officers to continue to serve with valor and integrity.
"We will continue to honor their memory and supreme sacrifice as we make sure that their legacy lives on through our actions and dedication to the service. They will always be remembered as true heroes, who have given their lives for the service of Filipinos", the country's top cop added.
Azurin was joined by Executive Secretary Lucas Bersamin who served as guest of honor and speaker.
In his speech, Bersamin said the Mamasapano mission was an "unqualified success" because it led to the confirmed killing of Malaysian terrorist and bomb expert Zulkifli Abdhir, alias Marwan.
"The success was resounding and worthy of celebration by all peace-loving peoples and nations, for every time that a terrorist like Marwan is meted justice, the victims of terrorism- regardless of their nationalities are gloriously vindicated. They fought to their last breath against remarkably superior combination of the hostile forces that surrounded them. They were warriors to the very end," he added.
Senior PNP officials and the bereaved families of the SAF 44 also joined the observance.
Haslyn Acob, the widow of Master Sgt. Rodrigo Fernandez Acob Jr., who was among the SAF 44, delivered a message during the ceremony.
"Today, we remember the unfathomable pain, but as a wife of a hero, I want to encourage the whole Filipino people, sana ay naging huwaran sila sa ating lahat na gawin ang ating mga tungkulin, maliit man o malaki para makatulong tayo sa pagkamit ng lasting peace and prosperity sa ating bansa (I hope they served as an inspiration for us to fulfill our duties, whether big or small, so that we could all contribute to lasting peace and prosperity in the country)," Acob said.
In a separate event, PNP deputy chief for administration Lt. Gen. Rhodel Sermonia, along with members of the Directorial Staff, led a wreath-laying ceremony at Bantayog ng mga Bayaning Tagapamayapa at Camp Crame on Wednesday morning.
On Jan. 25, 2015, the SAF 44 died during an anti-terrorism operation dubbed as 'Oplan Exodus' in Mamasapano, Maguindanao, which led to the neutralization of Marwan.
Proclamation 164 signed by former President Rodrigo R. Duterte in 2017 declares Jan. 25 as a national day of remembrance for the SAF 44.
This significant moment in the history of police service serves as a tribute to the sacrifices made by our uniformed men and women in the line of duty and a recognition of their acts of valor. (PNA)