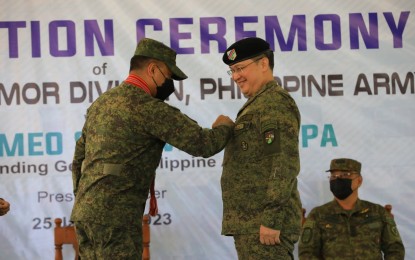 MANILA – The Philippine Army (PA) announced the appointment of Maj. Gen. Facundo Palafox IV as the new commander of the Armor Division.
Palafox assumed command of the unit during the assumption ceremony at Camp O'Donnell, Sta. Lucia, Capas, Tarlac on Wednesday.
"Army Commanding General Lt. Gen. Romeo S. Brawner, Jr.—who served as the ceremony's guest of honor and speaker—also donned a second star to Maj. Gen. Palafox who took the helm of the Pambato Division in an acting capacity from Lt. Gen. Efren P. Baluyot on November 2022. Lt. Gen. Baluyot, who has since assumed as commander of the Armed Forces of the Philippines Southern Luzon Command, also graced the ceremony," PA spokesperson Col. Xerxes Trinidad said in a statement.
Palafox held key leadership positions throughout his military career.
He served as the assistant division commander of the Armor Division and led various armor units such as the 2nd Mechanized Infantry Brigade; the Civil-Military Operations Regiment; and the Office of the Chief of Staff for Civil-Military Operations, Philippine Army.
Palafox is a member of the Philippine Military Academy Class of 1990.
He holds a Master in Public Management Major in Development and Security degree from the Development Academy of the Philippines.
Brawner commended Palafox and Baluyot for the changes they had infused in the Armor Division and for their high level of professionalism and exemplary management skills.
He specifically lauded the Armor Division leadership for allocating funds for the much-needed refurbishment of vital armor assets. (PNA)