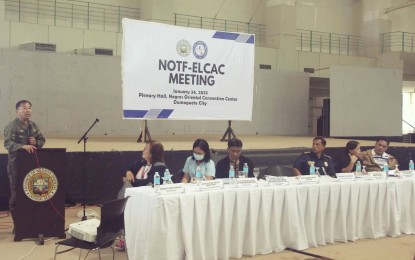 DUMAGUETE CITY – A Philippine Army brigade commander in Negros Oriental on Wednesday called for the strengthening of the provincial anti-insurgency task force's legal fight against the Communist Party of the Philippines-New People's Army (CPP-NPA).
Brig. Gen. Leonardo Peña, commander of the 302nd Infantry Brigade based in Tanjay City, Negros Oriental, made the call after some captured CPP-NPA members were released following the dismissal of their cases due to technicalities.
"Due to lack of legal advice and support, what happens is that the Philippine National Police (PNP) and the Armed Forces of the Philippines (AFP) personnel are the ones carrying the problems in the legal fight. There should be a whole-of-government approach by empowering our legal cooperation cluster," Peña said in mixed English and Filipino.
The legal cooperation is one of 12 clusters of the Task Force to End Local Communist Armed Conflict (TF-ELCAC), chaired by Governor Roel Degamo at the provincial level.
The cluster head is the Provincial Prosecutor's Office.
"One of the problems that we have encountered in the ELCAC is that when a CPP-NPA member is arrested, we do not have a strong legal cluster to depend on," he said.
In a reorganization meeting on Tuesday, the Army commander sought the unwavering support and cooperation of the task force members to sustain the fight against the CPP-NPA.
If this is not achieved, there is always the risk of the rebel fronts regaining their strongholds and getting back their mass base support, he added.
In response, Degamo said he would source funds for lawyers who will assist the TF-ELCAC to ensure air-tight cases against CPP-NPA personalities and to cover legal fees.
The governor also urged the active participation of the provincial prosecutor's office which heads the legal cluster of the TF-ELCAC. (PNA)