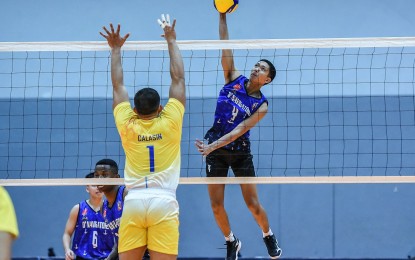 MANILA – D'Navigators Iloilo pulled off a 25-21, 25-23, 25-19 win over Philippine Air Force on Wednesday to join Philippine Army and Imus-Ivy Tuason Photography in the lead of the Spikers' Turf Open Conference at the Paco Arena.
Team captain Jerome Michael Cordez topscored for Iloilo with15 points and seven digs while Jadealex Disquitado chipped in 14 points, seven excellent receptions and six digs.
"I give credit to the players for performing well. I reminded them that the opponents are veterans. I told them they're younger and more conditioned, they know what our advantage is," Iloilo head coach John Kenneth Panes said after the match.
The D'Navigators relied on Disquitado, and middle blockers Rash Nursiddik and Nas Gwaza to win the first set.
They kept their momentum in the second frame and posted a 20-11 lead. The Airmen rallied behind outside hitter Alnakran Abdilla to close in at 23-24 but the D'Navigators managed to take the set.
Abdilla finished with 17 attacks and an ace for Air Force, while Edwin Tolentino added 10 points.
Iloilo thus joined Imus-Ivy Tuason Photography, which survived the Sta. Rosa Lions, 25-22, 28-26, 29-31, 25-16, and Philippine Army, which defeated Philippine Navy, 25-23, 10-25, 20-25, 25-22, 15-12.
Meanwhile, Sta. Rosa will try to bounce back when it plays Cignal at 4 p.m. on Friday. The other match at 6 p.m. will pit Cotabato against VNS Volleyball Club. (PNA)