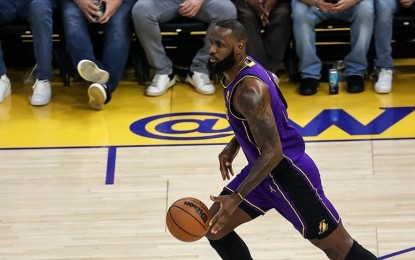 ANKARA – Los Angeles Lakers superstar LeBron James has become the first basketball player to score at least 40 points against every single NBA team, setting a new record for both the league and himself.
James, the 38-year-old Lakers forward, on Tuesday scored 46 points against rivals the Los Angeles Clippers in a game at LA's Crypto.com Arena.
Though the Clippers were the last of 30 NBA teams that James scored at least 40 points from, they beat the Lakers 133-115.
James also hit a career-high nine 3-pointers in the game.
James is also nearing the legendary Kareem Abdul-Jabbar's all-time scoring record, just 178 points shy of beating him.
Former Lakers center Abdul-Jabbar, now 75, tallied 38,387 points in 1,560 games before retiring from the court in 1989.
James has so far racked up 38,210 points in 1,404 appearances.
This season the Lakers are 13th in the NBA Western Conference with a 22-26 win-loss record.
The Lakers will next face off against the San Antonio Spurs on Wednesday in Los Angeles, and the team has at least 30 games remaining to complete the 2022-23 regular season in April. (Anadolu)