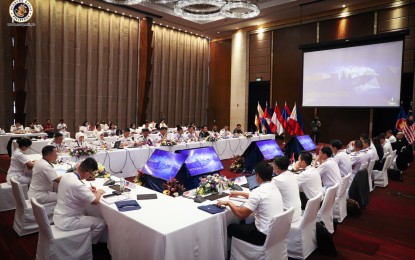 MANILA – The 2nd ASEAN Multilateral Naval Exercise (AMNEX) will be held in the country in May, the Philippine Navy (PN) said Thursday.
This came after the successful conduct of the multinational staff meeting organized to lay the groundwork for the 17th ASEAN Navy Chiefs Meeting (ANCM), at the Grand Hyatt Hotel in Taguig City from Tuesday to Wednesday.
"Participants coming from the navies of ASEAN member-states discussed and resolved matters covering future ANCM activities, including the execution of the ANCM proper and the 2nd ASEAN Multilateral Naval Exercise in May 2023. These activities are aimed at maintaining and strengthening maritime security in the Southeast Asian region," PN spokesperson Commander Benjo Negranza said in a statement late Wednesday night.
A total of 25 delegates from various ASEAN member states attended the activity.
Also discussed during the two-day planning session was the alternate conduct of the ASEAN Naval Exercise as a command post exercise or field training exercise, ANCM Road Map 2024-2032, and the ANCM Guidelines for Maritime Interaction draft, all of which are for the ratification of the ASEAN Navy chiefs during the 17th ANCM proper, which is also set in May.
"The staff meeting ended with closing remarks delivered by the Chief of Naval Staff, Rear Admiral Jose Ma. Ambrosio Ezpeleta. On behalf of the Philippine Navy and the Flag Officer in Command, he expressed appreciation for the commitment, hard work, and participation of delegates," Negranza said.
Ezpeleta also urged everyone to continue synergizing efforts for regional cohesion, peace, and prosperity.
The two-day meeting centered around the theme, "Synergy at Sea: Regional Cohesion for Peace and Stability."
"A basic training plan that will direct the staging of this naval exercise aimed at advancing interoperability and seamless execution among ASEAN naval forces was developed at the conference by Navy representatives from ASEAN member countries Brunei, Cambodia, Indonesia, Laos, Malaysia, Singapore, Thailand, and Vietnam," Negranza said earlier.
The idea for the AMNEX was submitted by the Royal Thai Navy during the 8th ANCM in 2014.
The AMNEX, first held in 2017 in Thailand, is anchored on three main pillars – interoperability, responsiveness, and readiness – to address common regional maritime concerns.
"This endeavor represents the PN's resolve to forge closer ties, deepen understanding, and foster cooperation in the direction of a peaceful and stable ASEAN region," Negranza added. (PNA)