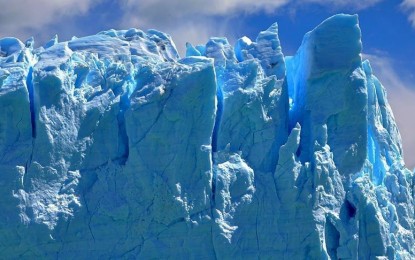 ISTANBUL – A giant iceberg -- the size of greater London -- broke free from Antarctica, researchers said Tuesday.
"A huge iceberg (1550 km²), almost the size of Greater London, has broken off the 150m (meter) thick Brunt Ice Shelf," the British Antarctic Survey (BAS), the UK's national polar research institute, said on its website.
"It calved after cracks that have been developing naturally over the last few years extended across the entire ice shelf, causing the new iceberg to break free," it added.
The iceberg broke free on Sunday.
"The iceberg calved when the crack known as Chasm-1 fully extended through the ice shelf," it added.
The break-off occurred a decade after the BAS scientists first noticed the expansion of sizable cracks in the ice, the statement said, adding that it is the second significant calving from this area in the past two years.
Quoting BAS Director Dame Jane Francis, the statement said: "Our glaciologists and operations teams have been anticipating this event."
The scientists measured the ice shelf multiple times and "how the ice shelf is deforming and moving, and are compared to satellite images from ESA, NASA and the German satellite TerraSAR-X," Francis added.
"All data are sent back to Cambridge for analysis," he said. "So we know what is happening even in the Antarctic winter – when there is no staff on the station, it is dark for 24 hours and the temperature falls below minus 50 degrees C (or -58F)."
'Calving event has been expected'
For his part, a BAS glaciologist Dominic Hodgson said: "This calving event has been expected and is part of the natural behavior of the Brunt Ice Shelf. It is not linked to climate change."
"Our science and operational teams continue to monitor the ice shelf in real-time to ensure it is safe, and to maintain the delivery of the science we undertake at Halley," Hodgson added.
The BAS Halley Research Station is situated on Antarctica's Brunt Ice Shelf. The area of the ice shelf where the research station is located, according to BAS glaciologists who have been observing the ice shelf's behavior, is now "unaffected" by the recent calving occurrences.
According to the statement, the Brunt Ice Shelf's glaciological structure is complex, and the effects of calving episodes are unpredictable. After Chasm-1 started to expand in 2016, BAS scientists moved the station 23 kilometers (14 miles) inland as a precaution.
Since 2017, employees have been deployed to the station only during the Antarctic summer between November to March.
There are currently 21 employees working on the station to maintain the power supplies and facilities that allow scientific studies to continue remotely throughout the winter.
According to satellite monitoring, in 2012 a chasm (Chasm-1) that had been dormant for at least 35 years began to show the first indications of alteration. Since 2015, Chasm-1 has been expanding, and by December 2022, it has spread across the entire ice shelf, signaling the start of the calving event. (Anadolu)