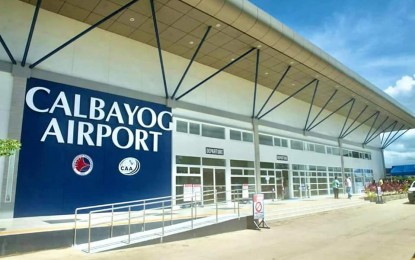 TACLOBAN CITY – The Civil Aviation Authority of the Philippines (CAAP) is planning to raise the terminal fee at the Calbayog Airport in Samar from PHP50 to PHP150 following the completion of development projects within the facility.
CAAP Eastern Visayas area manager Danilo Abarreta said they will hold public hearings in Calbayog City in Samar as they plan to enforce the increase by February.
"The government has been spending a lot to improve the Calbayog Airport, but we are just collecting PHP50 per passenger," Abarreta said in an interview Thursday.
With an average of 60 passengers daily, the airport is just earning about PHP3,000 daily or about PHP90,000 monthly, Abarreta said.
This, he said could hardly contribute to the airport's monthly expenses for electricity, water and the salaries of personnel.
CAAP, Abarreta added, has been spending PHP400,000 monthly for electricity, PHP100,000 for water supply, and PHP800,000 monthly salaries of personnel tasked to operate and maintain the 27.38-hectare airport complex.
The last time CAAP raised the terminal fee in Calbayog was in 2013 from PHP20 to PHP50 per passenger.
Currently, the government is implementing PHP67.29 million improvement of airport facilities, which is 29 percent complete as of December 2022.
The budget covers the construction of the administration building, a new 9-story control tower building, a new fire station building and a new powerhouse.
In 2021, the Department of Transportation, CAAP's mother agency, completed the new terminal building construction, increasing the seat capacity to 450 from 76.
Other improvements completed include the expansion of its apron, a new taxiway, widening of the runway, runway strip grade correction, runway asphalt overlay, construction of runway safety marker, new parking area, construction of a security fence and its drainage system.
"From 2023 to 2027, the vision is to extend the runway of Calbayog Airport from the current 2.1 kilometers to 2.5 kilometers to accommodate an airbus," Abarreta added.
Currently, the airport's runway is only for landing and takeoff of turboprop aircraft.
Philippine Airlines flies to Calbayog from Manila three times a week while Cebu Pacific flies to the city from Cebu four times a week.
The airport that serves more than 2,000 passengers monthly has a runway length of 2,100 meters and is classified by the CAAP as a minor domestic airport. (PNA)