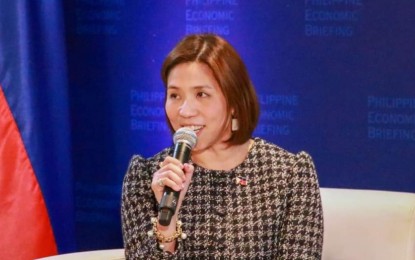 MANILA – The administration of President Ferdinand R. Marcos Jr. is "on track" with its goal of reaching a single-digit poverty rate by 2028 after the Philippines' gross domestic product (GDP) grew by 7.2 percent in the fourth quarter of 2022, resulting in a 7.6 percent full-year growth.
In a press statement, Department of Budget and Management (DBM) Secretary Amenah Pangandaman welcomed the country's high-growth performance last year, which beats economic managers' target range of 6.5 to 7.5 percent GDP for the whole of 2022.
"The report validates our country's economic strategies, and it rightfully shows that this government, headed by our President Ferdinand R. Marcos Jr., is on track with our Agenda for Prosperity," she said, referring to a roadmap that would address the immediate and pressing concerns of Filipinos in the near- and medium-term.
Pangandaman said the GDP growth also augurs well for the Philippines, which remains one of the fastest-growing economies in the region according to international financial institutions and private sector forecasts.
"As long as we continue to follow our economic blueprint, we are optimistic that we will achieve single-digit poverty levels and upper middle income status according to plan," she added.
Meanwhile, she also assured that the PHP5.268-trillion national budget for 2023 will continue to provide the necessary funding requirements to support the Marcos administration's goal of economic and social transformation.
On Dec. 16 last year, Marcos signed into law the 2023 national budget that is geared towards achieving post-pandemic economic recovery.
He said the 2023 national budget will provide the government with a tool to transform the economy and carry out the needed structural changes toward realizing the administration's goals.
Pangandaman said protecting the purchasing power of average Filipinos and ensuring food security remain "top government priorities."
Aside from these, she said enacting structural reforms, improving worker productivity and committing to good governance practices, including transparency to revitalize the investment climate, would assure growth continues in 2023.
"The Economic Team remains confident and optimistic about the Philippine economy under the able stewardship of President Bongbong Marcos," she said.
"With the help, trust, confidence and support of the private sector, civil society, and development partners, and with the right policies and spending priorities set in place, we are confident that achieving inclusive growth for all Filipinos is now closer at hand," she added.
In a report on Thursday, the Philippine Statistics Authority (PSA) announced that the GDP posted a growth of 7.2 percent in the fourth quarter of 2022, resulting in a 7.6 percent full-year growth in 2022.
The main contributors to the 4th quarter 2022 growth were wholesale and retail trade; repair of motor vehicles and motorcycles, 8.7 percent; financial and insurance activities, 9.8 percent; and manufacturing, 4.2 percent, according to the PSA. (PNA)