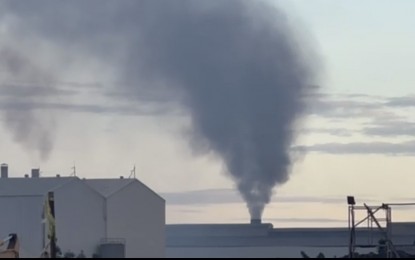 CITY OF SAN FERNANDO, Pampanga – The Department of Environment and Natural Resources - Environmental Management Bureau (DENR-EMB) will conduct air and water sampling tests on two smelting and steel plants in San Simon, this province.
The move came on the heels of reported massive air pollution being spewed daily for the past weeks by Wan Chiong Steel Corp. and Melters Steel Corp.
In a mission order signed by DENR-EMB 3 (Central Luzon) Director Wilson Trajeco on Jan. 24, he assigned a team from the EMB and one representative of the Provincial Environment and Natural Resources Office (PENRO) to conduct the site investigation.
This, according to Trajeco, is "in the interest of the service and in view of the strict implementation of Republic Act 8749, otherwise known as the Philippine Clean Air Act of 1999."
Under the order, the team will validate the veracity of information stated in the incident report of Wan Chiong Steel Corp. dated Jan. 12, 2023, on the maintenance/repair of their corresponding air pollution control devices and the presence of fugitive emissions.
Trajeco said the team would report the findings and observations within 72 hours after the investigation and communicate the proceedings and summary of findings to the complainant, the DENR-3, and PENRO-Pampanga based on the existing laws, rules, and regulations.
Earlier, San Simon Association of Barangay Captains president and ex-officio Councilor Randie Flores aired concerns over the reported air particles and pollutants that continue to affect at least six villages in their town.
Flores noted the emergence of pulmonary and related diseases triggered largely by daily emissions of highly toxic air pollution and contaminants from several steel plants along Quezon road in San Simon.
He mentioned five major emitters of harmful particles and air contaminants, particularly in Barangay San Isidro, which had been the subject of complaints from residents in the area even before he assumed his post as village chair.
Flores said some factories have reduced their smoke emission by using an electric arc furnace, a non-emitting pollution device.
"But a number of them are still using induction technology, which is an old model, in their factories, which causes the smoke," he said in an earlier interview. "The emission is not totally cut, but with the use of the electric arc furnace it helps a lot to control pollution being spread in the community."
Flores has sponsored Ordinance 23-003 entitled "An ordinance abandoning the traditional technology on smelting steel scrap and modernizing the production of steel billets attuned to the environment-protective latest technology within San Simon, Pampanga," which has already passed the second reading. (PNA)