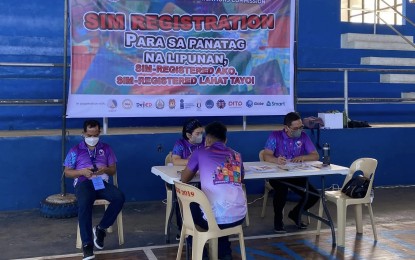 LAOAG CITY – The National Telecommunications Commission-Ilocos Region (NTC-1) on Thursday urged residents to take advantage of the assisted SIM registration which was rolled out in Pasuquin, Ilocos Norte on Wednesday, in compliance with the Subscriber Identity Module (SIM) Registration Act.
NTC-1 legal officer Ana Minelle Maningding in a media forum said failure to register before the April 26 deadline will mean the automatic deactivation of their SIM cards.
The NTC, in collaboration with public telecommunications entities (PTEs), is leading the registration to aid the Philippine National Police and other law enforcement authorities in curbing rising electronic communication-aided criminal activities in the Philippines such as mobile phishing, text spams, online scams, bank frauds and identity theft.
The deadline is in line with the provisions of Republic Act 11934 or the SIM Registration Act, which states that "all existing SIMs subscribers shall register the same with their respective PTEs within one hundred eighty (180) days from the effectivity of this Act."
"There is no age limit in the registration but for minors, their parents can register for them," said Maningding, adding that a government-issued identification card is needed when registering more than one SIM.
"Our first pilot area in the region was in Pasuquin, Ilocos Norte where some senior citizens were catered to," she said, adding that 206 subscribers of Dito, Smart and Globe successfully registered their SIM cards on the first day of registration at the Pasuquin Gymnasium.
Charles Mamaclay, customer development manager of Smart Communications in Ilocos Norte, said they have set up booths in crowd-drawing areas to assist their subscribers.
"We make sure the details are correct and once they are done with the registration process, we show them that the information provided is deleted. This is to ensure their safety and security of the information," said Pam Dalao, business development expert at Globe.
The pilot rollout of the SIM registration in 15 identified locations across the country will run until Jan. 27, 2023. (PNA)