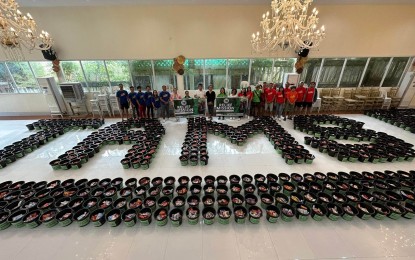 CALAPAN CITY, Oriental Mindoro – A group of Metro Manila-based Mindoreños on Wednesday launched a relief operation in Naujan, this province after the town was declared under a state of calamity due to floods caused by the northeast monsoon and the shear line.
The Association of Mindoreños (TAMS), established in 1997, regularly holds medical missions, gift-giving for the elderly, sports fest for the youth and feeding programs for the needy.
Dr. Carl Balita, TAMS vice president, said during the activity, "We gave out 750 pails with three kilos of rice, noodles and coffee to 10 sitios in Naujan, in coordination with the parish priest."
With him were TAMS president Beng Ventura, who is from Naujan, and Venus Morota, head of the group's secretariat.
Balita identified the flooded communities as Talon 1, Talon 2, Malalim na Sapa, Tabang Loob, Tabang Labas, Sampaloc, Andres Ylagan, Riverside and Yayang Centro.
On Jan. 23, the Sangguniang Bayan of Naujan, during its special meeting, passed a resolution declaring the town under a state of calamity.
Joery Geroleo, municipal disaster risk reduction and management officer, said at least 5,945 households have been affected by the floods since the non-stop rains started in December.
The damage to agriculture was initially placed at PHP77,832,739 while the damage to infrastructure reached PHP140,641,500.
Geroleo said 47 agricultural villages were affected.
"The town is flooded during its Jan. 4 foundation day. On Jan. 17, the nautical highway and Curva in Barangay Pinagsabangan II became unpassable due to floods so a rerouting had to be undertaken," he said.
Besides Naujan town, Baco and Victoria also experienced floods in some of their villages. (Maria Tividad/PNA)