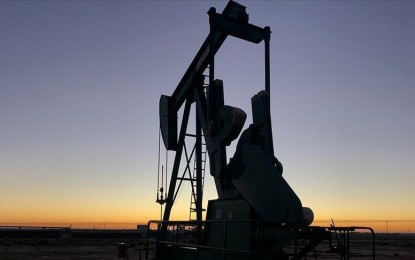 ANKARA – Oil prices showed a slight increase on Thursday after United States crude inventory rose less than expected, supporting demand optimism.
International benchmark Brent crude traded at $86.25 per barrel at 9:24 a.m. local time (0624 GMT), a 0.15 percent increase from the closing price of $86.12 a barrel in the previous trading session.
The American benchmark West Texas Intermediate (WTI) traded at $80.46 per barrel at the same time, a 0.39 percent gain after the previous session closed at $80.15 a barrel.
US commercial crude oil inventories increased by 0.1 percent during the week ending Jan. 20, according to data released by the Energy Information Administration (EIA) late Wednesday.
Inventories rose by around 500,000 barrels to 448.5 million barrels, against the market expectation of an increase of around 3.4 million barrels.
On the supply side, market players are awaiting an EU ban on Russian refined products and OPEC+ meeting.
An EU embargo on Russian refined products will come into effect on Feb. 5 and is expected to limit output.
Experts are cautiously waiting to see how prices will be affected once the ban starts.
Russian crude oil already faces a ban since Dec. 5.
Also, OPEC+ delegates are expected to meet in February to discuss a review on output levels. (Anadolu)