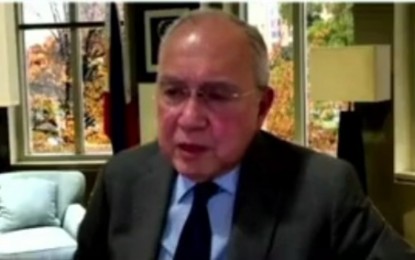 MANILA – The possible joint patrols between the Philippines and the United States is to enhance "interoperability" between the two allies and is not necessarily directed against any country, Philippine Ambassador to the US Jose Manuel Romualdez said Thursday.
In an ANC interview, the envoy said Manila has always had an agreement with the US for maritime patrols but it was "never really implemented" formally.
"This has been on the table for quite some time and I'm sure that at some point our defense establishment and the US defense establishment will come out with an operational plan to be able to have these joint patrols," he said.
He said these activities are not confined to Washington DC but also with other partners like Japan and "possibly Australia".
Romualdez highlighted that Manila's main objectives in the West Philippine Sea are to maintain peace and security, and ensure that Filipinos are able to fish within the country's waters.
"He (Marcos) went to China and communicated that to President Xi (Jinping), and he made it very clear to the US that that is his number one objective," he said.
"Our agreement with the US is there, it's intact and if it requires for us to continue with our maritime security defense posture with having the US join us, we will do it. I think the President is very open to that one because he sees that as part and parcel of the entire picture of trying to find peace in the area," he added.
In a separate presser, Foreign Affairs spokesperson Ma. Teresita Daza said the exercise to be undertaken together with the US is still in discussion.
"In terms of discussions, all of these are work in progress whether it be (the) EDCA (Enhanced Defense Cooperation Agreement) or what kind of exercises will be undertaken," she said. (PNA)