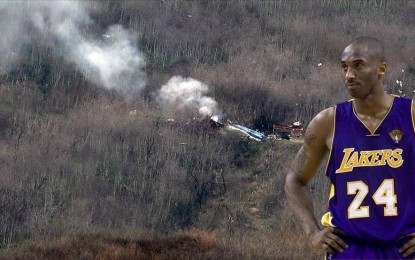 ANKARA – Thursday marks the third anniversary of the tragic helicopter crash which took the life of Los Angeles Lakers superstar Kobe Bryant.
At the time of the accident, the NBA legend was 41 years old.
The sudden death of the multi-time NBA and Olympic champion shocked the basketball community and the game's fans.
Ex-USA and Lakers shooting guard Bryant died on Jan. 26, 2020, along with his daughter Gianna and seven others, when a helicopter crashed on its way to a basketball game at the Mamba Sports Academy, which he founded.
Thanks to his leadership role, confidence, and forceful performance on the courts, Bryant is considered one of the basketball greats and is often compared by many to Michael Jordan, another hoops legend.
Born on Aug. 23, 1978, in the eastern city of Philadelphia, Bryant first attracted attention with his performance at Lower Merion High School in the City of Brotherly Love.
Raised partially in Italy as his relatives moved to Europe, Bryant learned to speak Italian fluently and played basketball there.
When Bryant was 13, after his father retired from basketball, he and his family returned to the US.
Chosen 13th by the Charlotte Hornets in the 1996 draft, the Lakers acquired Kobe Bryant in exchange for former Serbian center Vlade Divac, who was a starting player of the Western Conference franchise.
Bryant first put on the Lakers jersey while he was 18 years old and spent his entire 20-year career with this team.
Just 18 years and 158 days old, he was the youngest starter in an NBA game.
Bryant, an 18-time NBA All-Star, led the Lakers to win five NBA titles – in 2000, 2001, 2002, 2009, and 2010.
Nicknaming himself Black Mamba, Bryant ended his distinguished career on April 13, 2016, on a high note, scoring 60 points against the Utah Jazz in his last NBA game.
He was 37 years and 234 days old, making him the oldest NBA player to score 60 points in a single game.
Career full of trophies, success
During his illustrious two-decade-long career, Bryant racked up many individual honors and team trophies with the Lakers and Team USA.
Bryant helped the Lakers secure five NBA titles, was the league's Most Valuable Player (MVP) in 2008, and then bagged two NBA Finals MVP awards in 2009 and 2010.
He also bagged the NBA All-Star Game MVP award four times, sharing this record-setting honor with only Bob Pettit.
Bryant averaged 25 points, 5.2 rebounds, and 4.7 assists in 1,346 regular season games during his 20-year career with the Lakers.
Bryant also played for his native US and helped Team USA win two Olympic gold medals in Beijing 2008 and London 2012.
Following his death, the NBA honored him by permanently renaming the NBA All-Star game MVP (Most Valuable Player) award the NBA All-Star Game Kobe Bryant MVP Award.
Scores 33,643 points, fourth-highest total in NBA history
An inspirational player, Bryant scored 33,643 career points in 1,346 games, making him the number four player in the NBA's all-time top-scoring list.
On Jan. 22, 2006, Bryant made history by scoring 81 points in a game versus the Toronto Raptors, making him the second-highest scorer in an NBA game after Wilt Chamberlain, who racked up 100 points in 1962.
'Kobe Bryant Day'
Following his retirement in 2016, the City of Los Angeles declared Aug. 24 (8/24) Kobe Bryant Day, and it continues to be marked every year to commemorate Bryant.
The city council chose Aug. 24 to refer to the Lakers jerseys he wore in his 20-year career.
After playing with the no. 8 jersey, in 2006, Bryant decided to switch to no. 24.
In 2017, Bryant became the first NBA player to have two different numbers retired by the same team.
The Lakers paid tribute to Bryant by getting both of his jerseys into the rafters of their home court, Staples Center, later renamed Crypto.com Arena.
Wins Oscar for animated short film
Bryant won an Oscar in 2018 when he was involved in a film called Dear Basketball, which was nominated for best animated short.
The film shows Bryant as a child dreaming of becoming a basketball champion and an NBA star.
In 2012 and 2013, Bryant appeared in commercials for Turkish Airlines with Argentine football superstar Lionel Messi. (Anadolu)