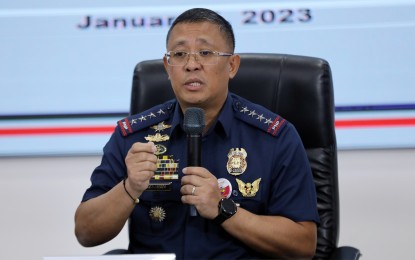 MANILA – Only ranking police officials are covered by Interior Secretary Benjamin Abalos Jr.'s call to submit courtesy resignations as part of a radical move to eliminate bad eggs among the ranks.
PNP chief Gen. Rodolfo Azurin Jr. said the measure will not apply to middle-level and junior officers as well as police non-commissioned officers (PNCOs).
He explained that the process of assessment and evaluation by a five-member committee, as well as its results, will serve as a strong message to all the police uniformed personnel that the organization is bent on purging the organization of those involved in the illegal drug trade.
"The process that all third level officers would undergo is enough to send a strong message that they must stop if ever they are involved in this illegal activity," Azurin said on the sidelines of the oath-taking rites for the new set of officers of the PNP Press Corps on Thursday night.
Of the 956 third level officers, only 11 of them have yet to submit their courtesy resignation.
Azurin said it will take time before the committee would finish the assessment and evaluation for less than 1,000 third level officers.
He also said applying the same strategy for middle-ranking and junior officers, along with PNCOs, would be impractical.
"Instead, we will strengthen our intelligence-gathering and legal offensive against them," Azurin explained.
Azurin added that once the assessment and evaluation of third-level officers are done, he expects all those who would be cleared to initiate measures to cascade the cleansing among their men.
"After all of these (assessment and evaluation of courtesy resignation), they will have the moral ascendancy to lead and institute reforms for the welfare of the PNP as our beloved organization," Azurin said.
The move stemmed from the arrest of Master Sgt. Rodolfo Mayo, who was tagged in the PHP6.7 billion drug haul in Manila in October last year.
Mayo's arrest prompted an investigation that uncovered the involvement of some high-ranking police officials in the illegal drugs trade.
The PNP Internal Affairs Service has already recommended Mayo's dismissal from the service.
Support
The Police Cavaliers Association Inc., meanwhile, expressed support for Abalos' call.
Maj. Gen. Valeriano de Leon, chief of the PNP Directorate for Information and Communications Technology Management and the group's president, also called on the remaining 11 third level officers to submit their courtesy resignations.
"Regardless of impending retirement or other factors, the obligation to comply is an integral part of the chain of command, a requirement for moral ascendancy to lead, and a must to ensure that the Filipino people's trust and confidence are kept at all times," he said in a statement.
De Leon added that no less than Azurin and other members of the PNP command group have already shown leadership by example by subjecting themselves to the same process.
"There is no reason for any member of the PNP, therefore, not to do the same," he added.
De Leon also lauded third-level officers who have already submitted their courtesy resignations without fear or hesitation.
"As PMA (Philippine Military Academy) graduates, we were taught the importance of leadership and how a leader's good qualities cascade down the chain of command. Let us show then who we are and what we are made of—officers honed on the concepts of Courage, Integrity and Loyalty to the Filipino people whom we vowed to serve and protect. (PNA)