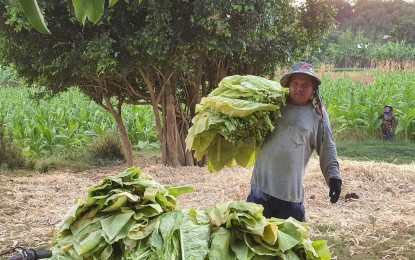 LAOAG CITY – The Department of Budget and Management (DBM) has given the go signal to release half of the tobacco excise tax to local government units (LGUs), an official from Ilocos Norte said Friday.
Tobacco-producing LGUs are set to receive a total of PHP19 billion as their share from the government's tobacco excise tax collections in 2020.
This is based on Local Budget Memorandum 86, issued by Budget Secretary Amenah Pangandaman, which provides the guidelines on the release and use of the LGU shares from the excise taxes on locally manufactured Virginia-type cigarettes, and Burley and native tobacco.
"The DBM has already issued a notice of release of at least 50 percent share of the tobacco excise tax for the locally-manufactured Virginia and Burley tobacco," acting provincial budget officer Lea Blas said Friday.
The excise tax fund collected in 2020 through Republic Act (RA) 7171 was PHP15,010,582,000 while PHP4,000,000,000 was collected for RA 8240 or the Burley and Native tobacco excise tax fund.
Of the PHP15 billion Virginia tobacco excise tax fund, the province of Ilocos Sur will get the biggest share of PHP9,277,695,879; Abra – PHP2,033,256,602; Ilocos Norte – PHP1,882,003,748; and La Union – PHP1,817,625, 771.
In the provincial RA 7171 excise tax share, 70 percent will be distributed to the LGUs while the remaining 30 percent will go to the provincial local government.
At the LGU level, the top 10 municipalities with the biggest share are the following: Magsingal (Ilocos Sur) – PHP764, 823,126; Candon City (Ilocos Sur) – PHP656,446,632; Pilar (Abra) – PHP650, 564,891; Cabugao (Ilocos Sur) – PHP567,481,053; Balaoan (La Union) – PHP529,265,776; Sinait (Ilocos Sur) – PHP456,325,843; Sta. Cruz (Ilocos Sur) – PHP414,084,062; San Juan (Ilocos Sur) – PHP323,495,337: Pinili (Ilocos Norte) – PHP298,838,814; and Burgos (Ilocos Sur) – PHP298,473,560.
The DBM said the volume of production and trade acceptances of beneficiary LGUs were based on the certifications issued by the National Tobacco Administration (NTA) and endorsed by the Department of Agriculture (DA).
Before the release of the funding, the DBM requires the identification of the list of programs and projects to be implemented wherein the beneficiary LGUs will, with the assistance of the DA and NTA, conduct public consultations with tobacco farmers duly identified by the NTA to determine the appropriate programs and projects beneficial to the said farmers.
It stated further that the programs and projects to be implemented by the beneficiary LGUs using the tobacco excise tax fund should be included in their duly approved Local Investment Programs and Annual Investment Programs. (PNA)