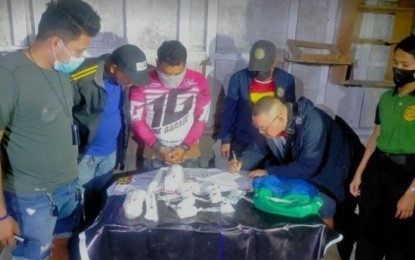 CEBU CITY – The Police Regional Office (PRO) in Central Visayas on Friday bared it seized PHP15.3 million worth of suspected shabu while four drug personalities were arrested during three separate operations in Cebu province.
Brigadier General Jerry Bearis, PRO-7 chief, said the regional office's Center for Public Safety Analysis has proven its analytical efficiency in the war against drugs here with recent arrests and confiscation of illegal drugs.
He said the three recent intelligence-driven and coordinated operations netted more than two kilos of suspected shabu worth PHP15.266 million.
"Our analytical and intelligence-based policing approach will continue to deliver huge and impactful results and this should be a fair warning to all criminals: Not in Central Visayas", Bearis said.
According to the PRO-7, the operation in Barangay Tayud in Consolacion town was the biggest as the operatives from the Provincial Drug Enforcement Unit arrested a regional priority target identified as Lunicito Juario Labitad, alias "Looney", 38.
Col. Rommel Ochave, acting provincial police chief, said Labitad who is a resident of Barangay Quiot here yielded a total of two kilos of shabu worth PHP13.6 million, buy-bust money, and a green bag.
Ochave said the sting operation against Labitad was a joint effort of the One Cebu Inter-Agency Drug Interdiction Task Force formed by Governor Gwendolyn Garcia.
At 8:20 p.m. Thursday, the Regional Police Drug Enforcement Unit arrested Juver Becoy Paca, alias "Dondon", 36, of Magsaysay Street, Sitio Lawis of Barangay Pasil here, and his neighbor Reynaldo Dela Cerna Cabangca Jr., alias "Taex", 24, in a sting operation on Tres de Abril Extension in Barangay San Nicolas here.
The operatives recovered from the suspects 105 grams of shabu worth PHP714,000, buy-bust money, a belt bag, and a 125-cc motorcycle they used in the transaction.
In another operation at Sitio Mananga 2 of Barangay Tabunok in the city of Talisay, members of the local police confiscated 140 grams of shabu worth PHP952,000 from a female high-value individual identified as Flordeliz Cadungog Dacles, 40, a resident of Sitio Sto. Niño of Barangay Suba here.
The operatives from Talisay City Police Office also seized other pieces of evidence from Dacles such as cash amounting to PHP300 in different denominations believed to be proceeds of her illegal activity, buy-bust money, and a sling bag.
In a statement, Philippine National Police chief, General Rodolfo Azurin Jr., lauded Bearis for this recent successful operation against illegal drugs in Region 7.
"I commend the PNP and PDEA's (Philippine Drug Enforcement Agency) relentless efforts in the fight against illegal drugs. The confiscation of PHp15.3 million worth of shabu is a significant blow to the drug trade. Let us continue to work together to bring down these criminal organizations," Azurin said.
Downtrend in index crimes

Meanwhile, Central Visayas has recorded a sharp decline in crime incidents by 22.96 percent for the first 25 days of 2023, the PRO-7 said.
Index crimes reportedly went down with 208 cases from January 1 to 25, 2023 as compared to the same period of last year with 270 cases.
Index crimes refer to serious crimes that occur with sufficient frequency and regularity to the extent that they can indicate the crime situation. These are murder, homicide, physical injury, rape, theft, robbery, carnapping, and special complex crimes.
The report said more than 98 percent of these cases were already cleared and solved.
The PRO-7 also noted a significant drop in the cases of physical injury and rape in the first 25 days of 2023. Physical injury cases this year recorded only 27 cases as compared to 75 last year while rape has 27 cases as compared to 48 last year.
"The downtrend will continue to be seen in the coming days as PRO 7 pushes on with its relentless campaign against all forms of criminality in the region," Bearis said. (PNA)