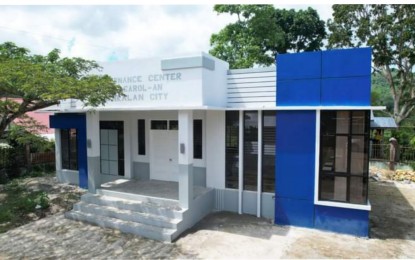 BACOLOD CITY – Thousands of members of the indigenous peoples (IP) community in a mountain village of Kabankalan City in southern Negros Occidental province are benefiting from the recently-completed IP Governance Center constructed by the Department of Public Works and Highways (DPWH) Third District Engineering Office.
Located in Barangay Carol-an, the multi-purpose building serves as a venue for the training and educational activities of some 4,700 IPs who were granted the certificate of ancestral domain title by the government.
"This center is where local officials can perform their functions, policies, and programs toward the preservation of IP culture, tradition and institution," said DPWH-Western Visayas Regional Director Nerie Bueno in a statement on Friday.
District Engineer Rodney Gustilo said through the facility, it is hoped that the tradition of the Carol-ano IP community will be preserved.
"This is the government's way of supporting and protecting their rights and tradition, and enhancing their economic, social, and cultural well-being. It also augments the integrated programs and plans for the enrichment of the indigenous customs and traditions," he added.
The development was welcomed by Commissioner Jeorge Largado of the National Commission for Indigenous Peoples (NCIP) for the Island Group and the rest of Visayas.
"It will serve as the office of IP leaders for the settlement of incidental problems, and also of IP organizations, who are the implementing arms of IP community, which have a legal capacity in bridging the extended program of government to IPs," Largado said.
He added the facility will also be a place to shelter the IP knowledge system and practices, document rich cultures and traditions, and preserve IP beliefs in various activities such as weddings, farming, and thanksgiving. (PNA)