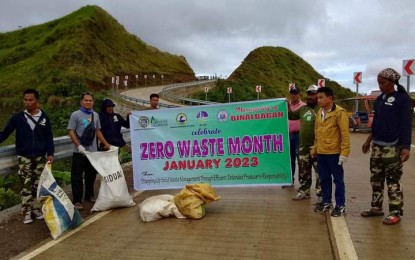 BACOLOD CITY – The municipal government of Binalbagan in southern Negros Occidental has enforced rules, including limiting the number of visitors, at the emerging upland tourist spot popularly known as Mount Hermit in Barangay Bi-ao.
Mayor Alejandro Mirasol issued Executive Order No. 5, series of 2023, after uncontrolled crowds have been leaving garbage in the area and following reports that unauthorized groups have been collecting fees from visitors.
"Starting (Friday), all tourists, leisure visitors, and all visitors for any purposes of Hermit and Trese in Sitio Bulwang, Barangay Biao shall register at least a day before the travel at the Municipal Tourism Office," the advisory from the local government unit (LGU) said.
Data released by the municipal government on Friday afternoon showed at least 911 individuals have already registered to visit Mount Hermit this weekend.
Registration is free, and can be done through a face-to-face transaction, or online either by scanning the QR (Quick Response) code or clicking the website link posted on official Facebook pages, 8 a.m. to 5 p.m., from Monday to Friday.
The advisory said a maximum of 300 tourists or leisure visitors will be allowed entry to the sites in Hermit and Trese at any given time, and the list will be submitted to the barangay for checking at the entrance.
"This is to regulate the number of visitors and to ensure the safety of the visitors. We encourage everyone to abide with the rules and guidelines ordered by the LGU and the barangay especially with regards to garbage," Mirasol said.
Without rules and regulations, crowds at Mount Hermit have reached thousands, particularly on weekends which caused concern when several pictures of trash left by visitors across the area have been uploaded on social media.
After roads have been improved going to the site in the past year, it has become a popular destination for hikers, motorcycle riders, and families for its scenic views and cool mountain winds. (PNA)