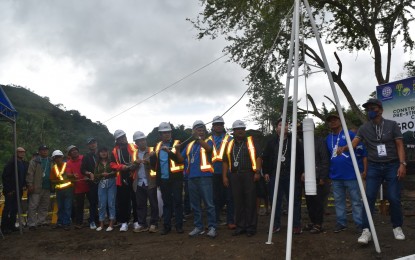 ILOILO CITY – More than 3,500 residents of barangays in the mountainous area of the municipality of Alimodian, dubbed "Seven Cities," stand to benefit from the PHP50.3 million bridge project funded by the Philippine Rural Development Project (PRDP) of the Department of Agriculture.
"This is very important because this bridge will connect the last barangay of the Seven Cities. We have seven mountainous barangays in Alimodian that we call seven cities," Iloilo Governor Arthur Defensor Jr. said in a press conference on Friday.
He was referring to barangays Dao, Lico, Manasa, Tabug, Tarug, Umingan, and Cabacanan.
Defensor led the groundbreaking ceremony for the 60-lineal meter pre-stressed concrete girder Cabacanan Bridge project in Barangay Cabacanan Proper on Jan. 24.
The bridge is expected to be completed on Oct. 2 this year or 293 calendar days.
The provincial government has provided a counterpart fund of PHP9.1 million as the governor expressed readiness to always provide the counterpart fund for projects coming from the national government.
The seven barangays boast of lush vegetation, thick jungle, caves, cliffs, waterfalls, and rice terraces.
The villages are also known for producing high-value crops, such as cauliflower, broccoli, and carrots.
"It will serve as access both to products and the people. It is one good destination if you have good access to that part of the province. It's like Bucari," the governor said.
Bucari is in adjacent Leon town known as the "Little Baguio of Iloilo" because of the cold climate making it a favorite destination during summer.
Defensor said the project would also connect Alimodian to the nearby town of Leon. (PNA)