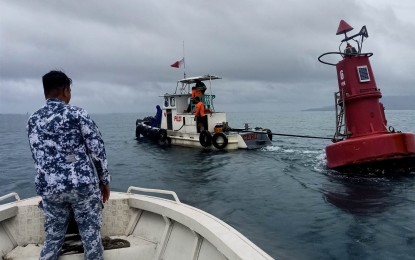 CEBU CITY – The Philippine Coast Guard (PCG) in Central Visayas lifted on Friday the suspension of trips to and from the western corridor of Bohol, Camotes Island group, and Negros Oriental.
PCG stations in three areas issued separate notices to mariners informing shipowners and masters of sea vessels that they could resume operations after the Philippine Atmospheric, Geophysical and Astronomical Services Administration (PAGASA) reported no bad weather conditions in the area.
PCG-Central Visayas suspended sea voyages Thursday in seven coast guard jurisdictions due to low pressure area and shear line monitored over the Visayas, Mimamropa, Bicol Region, and Quezon province.
The seven areas were Coast Guard stations in Camotes, Negros Oriental, western Bohol, eastern Bohol, southern Cebu, central Cebu and northern Cebu.
Sea trips remain suspended in the four other areas.
"Shipowners and masters of vessels in areas where suspension of sea voyages is lifted may resume their operations. They should take extra vigilance in assessing the risk even if they are allowed to resume sea travels," Lt. John Wenceslao, commander of PCG Western Bohol said. (PNA)