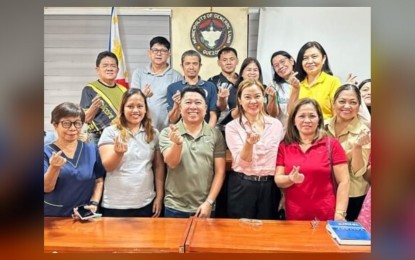 GENERAL LUNA, Quezon – Mayor Matt Erwin Florido on Friday said at least 52 families were able to receive P90,000 cash and livelihood assistance each under the Balik Probinsiya Program last year.
Florido, in an interview, said he was grateful for the financial aid and grants that the national government continued to pour into his municipality, adding that the town is expected to receive yet another round of assistance under the Municipal Grant Allocation (MGA) from the Department of Social Welfare and Development (DSWD).
Florido said the 52 families who came back home after being stranded in various places due to the coronavirus disease 2019 (Covid-19) were initially given cash assistance from the national government worth P40,000 each in October last year as transitory assistance.
In December, they were granted P50,000 each as livelihood assistance by the Department of Social Welfare and Development (DSWD).
Florido said some of the families used the cash aid to open up a sari-sari store and other businesses while others bought pedicabs and fishing boats to boost their livelihood.
This year, the mayor said the town is expected to receive additional grant allocation from DSWD.
Personnel from DSWD Region 4A, led by Assistant Regional Director Myla Gatchalian visited the town earlier this week to relay the news that it has qualified for the P7.5 million MGA.
"Our town qualified for the P7.5 million Municipal Grant Allocation," Florido said in a phone interview with Philippine News Agency.
Florido said General Luna is one of the three municipalities in Calabarzon (Cavite, Laguna, Batangas, Rizal and Quezon provinces) that qualified for the grant. The other two were Naic town in Cavite and San Luis in Batangas.
"We will use the grant for projects the Municipal Development Council (MDC) has identified. We may build an evacuation center because our town is yet to have one," added Florido.
The MDC is composed of the 27 barangay chairpersons of General Luna, the Mayor's Office and seven non-government organizations.
The mayor said the DSWD team will come back in March for the signing of the Memorandum of Agreement for the said grant. (PNA)