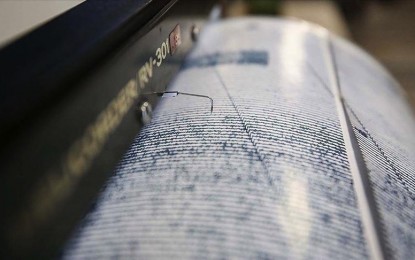 TEHRAN –At least two people died while more than 100 others were hurt when a 5.9-magnitude earthquake hit Iran's northwestern province of West Azerbaijan Saturday, an emergency organization said.
The quake was reported at around 9.44 p.m. local time at a depth of 7 kilometers (4.34 miles), with the epicenter near Khoy, Mojtaba Khaledi, spokesperson for Iran's Emergency Organization.
According to officials and media reports, the high-intensity quake was felt in multiple cities, including the provincial capital and largest city Urmia, with multiple aftershocks.
Earlier, Khaledi told state television that preliminary reports suggested damage in Khoy as a result of the quake, adding that ambulances have been dispatched from nearby cities of Urmia and Tabriz.
Teams of the Red Crescent Society in the province, which borders Azerbaijan, have also been dispatched to the worst-hit areas to assess the damage, said officials.
Governor of Khoy, Zabihullah Kazemi, told the state news agency that 15 teams have been sent to the quake-hit areas to assess the extent of damage and provide relief.
The province was jolted by a 5.4-magnitude tremor earlier this month, which shook Khoy and caused extensive damage to properties.
In October, a 5.4-magnitude quake in Khoy injured nearly 400 people in October and partially or fully damaged hundreds of urban and rural residential properties.
Iran is located in a seismically active zone and has seen many catastrophic earthquakes in the past years.
The most devastating earthquake to hit the country in recent history came in 2013 when at least 34,000 people died in the city of Bam in southeastern Kerman province. The quake measured 6.7 on the Richter scale.
In recent months, a string of high and medium-intensity earthquakes have hit provinces in southern and northern Iran. (Anadolu)