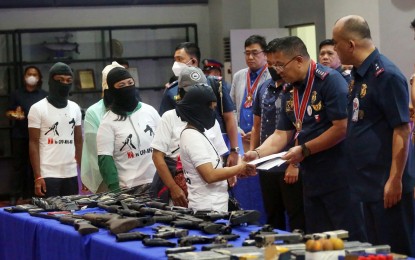 MANILA – The National Task Force to End Local Communist Armed Conflict (NTF-ELCAC) is determined to rescue more communist insurgents and give them the opportunity to rejoin their families and live peaceful and useful lives again.
This is the task force's goal for this year which was raised during the meeting of its 12 national clusters on Jan. 27.
"(National Security Adviser) Secretary (Eduardo) Año issued his ways forward guidance and direction in strengthening the National Task Force's whole-of-nation mechanisms and convergence efforts to ensure the realization of the aspiration and directive of President Ferdinand R. Marcos Jr. to finally achieve lasting and inclusive peace and development for all," the NTF-ELCAC said in a statement issued Sunday night.
Plans and programs presented during the meeting highlighted the NTF-ELCAC's "resolve to rescue more rebels and provide them with holistic support so they may rejoin their loved ones in the communities and contribute to the betterment of society."
These are also geared to "further strengthen the resilience of the Filipino people from the communist terrorist group's malevolent influence and continuing attempts to cause terror and chaos in our land."
Año also expressed his confidence in the NTF-ELCAC's roadmap.
The national clusters also pledged their unwavering commitment towards the full reconciliation and reintegration of each "friend rescued" (FR) and bringing development to all four corners of the country, especially the far-flung barangays.
FR refers to surrendered members of the New People's Army and other allies of the communist movement.
"Secretary Año underscored the significant role of cluster agencies in providing timely and appropriate support for and taking the initiatives to mainstream the various development interventions in identified conflict-affected barangays and sustain the significant gains made by the NTF-ELCAC since its creation on December 4, 2018," the body stressed.
Año also expressed his confidence in the NTF-ELCAC's roadmap.
The NTF-ELCAC also lauded the dedication and zeal of all involved government agencies and local government leaders, in partnership with the private sector, for their support in attaining this objective.
"(This) proves the nation's collective dedication to fulfilling the covenant of security, peace, and prosperity for the Filipino people," the body added. (PNA)