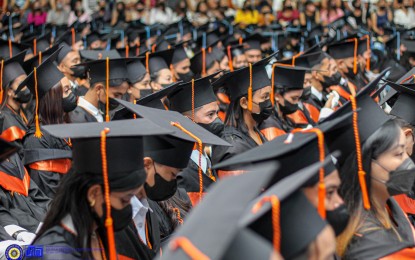 MANILA – A bill seeking a one-time cash grant of PHP5,000 for every Filipino fresh graduate was referred Monday to the House Committee on Higher and Technical Education.
Deputy Speaker and Las Piñas Rep. Camille Villar, the author of the House Bill (HB) No. 6542 or the proposed "Fresh Graduates P5,000 One-Time Cash Grant Act," described this development as an effort to provide support to the new graduates as they look for employment.
The measure prescribes financial aid to all fresh Filipino graduates of Philippine tertiary institutions, colleges, universities and training institutions which they can use for the initial expenses of their employment application and job settling-in.
"This bill seeks to complement and help fresh graduates by giving them a one-time cash grant in the amount of PHP5,000 which they can use as productivity/earnest fund [for their] application for employment, transportation and settling-in amount if they get a job soonest," Villar said.
She noted that a student, fresh out of graduation who wants a decent means of livelihood, "finds himself at a loss on how to fund for employment application prospects—the continuously increasing transportation fare and the difficulty of commuting, preparing a decent work wear, printing tons of biodata or curriculum vitae and other expenses needed when one applies for a job."
To avail of the cash aid, a copy of the diploma or any valid proof of graduation issued by the educational institution shall be presented to the government agency or local government unit concerned. The diploma, certification, document, or communication should clearly state the date of graduation or completion and the course completed or degree earned and should be signed by the institution's duly authorized representative.
An interagency monitoring committee will be created to be headed by the chairperson of the Commission on Higher Education (CHED). The body will formulate the implementing rules and regulations and monitor compliance by the various state agencies and instrumentalities.
The appropriations needed to implement this bill, once enacted, shall be coursed through CHED, and such an amount may be determined by Congress after consultations with different stakeholders.
"While some would label the grant as means of a dole-out, the higher purpose is actually investment in the emerging labor force which is for the best interest of the State. Similarly, it is an aegis of a caring government to provide relief and an expression of the principle of 'Parens Patriae'—to show the State's commitment to promote the highest interest of the Filipino youth," Villar said. (PNA)