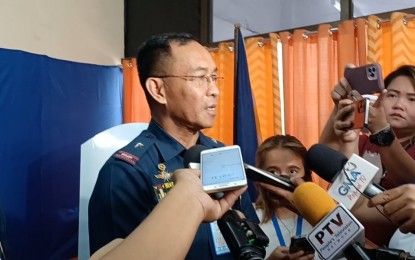 CEBU CITY – The police in Central Visayas has scored anew as six drug personalities and a most wanted person in the region were arrested in a series of operations that resulted in the confiscation of PHP8 million worth of suspected shabu.
Brig. Gen. Jerry Bearis, Police Regional Office (PRO)-Central Visayas chief, said the sting operations in the cities of Mandaue and Cebu and in some towns of the provinces of Cebu and Negros Oriental highlighted their efforts in initiating actions in line with the directives of President Ferdinand Marcos Jr. to strengthen the war on drugs.
"This two-day accomplishment demonstrates the PRO-7's huge progress in innovating strategies in the pursuit (against) the lawless criminals and keeping our community safe," Bearis said.
Bearis lauded the Mandaue city police's Drug Enforcement Unit for the arrest of Jeremie Ragasajo Sun, 40, alias "Opaw" on Saturday night and seized from him 600 grams of suspected shabu worth PHP4.08 million during an operation on Larazabal Street in Barangay Subangdaku, Mandaue City.
In the town of Compostela, a team of the Provincial Drug Enforcement Unit and Compostela police arrested Jason Labostro Matugas with 52.5 grams of shabu worth PHP357,000 on the same evening.
On Saturday night, the Drug Enforcement Unit of Police Station 9 here collared Imelda San Pedro Merecidio, 52, of Sitio Deca Homes in Minglanilla town.
Merecidio, an identified high-value individual, was arrested at Paseo Arcenas Drive in Barangay Guadalupe here and seized from her 150 grams of shabu worth PHP1,020,000.
The Provincial Drug Enforcement Unit seized 175 grams of suspected shabu worth PHP1.2 million from another suspect, Bryan Bantilan Pepito, 43, in a buy-bust in Barangay Cotcot, Liloan in the northern part of the province.
After midnight on Sunday, Mharjervin Orlanda Abellana, alias "Nonon", 18, of Barangay Tisa here, was caught with 216 grams of shabu worth PHP1.4 million in a sting operation on C. Padilla St. in Barangay Duljo-Fatima.
On Sunday morning, operatives of the Negros Oriental Provincial Police Office, Maritime Police, and Dumaguete City police, arrested Bergen Catadman Aguilar, 35, in an anti-drug operation through the serving of a search warrant and yielded 107 grams of shabu worth PHP727,000.
The suspects are charged with violation of Republic Act 9165 or the Comprehensive Dangerous Drugs Act of 2002.
Meanwhile, Bearis said the police also nabbed Carlos Esparcia Solano, 65, who is known to be a communist terrorist group surrenderer and Region 7's top 8 most wanted person with two pending warrants for his arrest.
Solano's arrest was based on warrants for murder and violation of Comprehensive Law on Firearms and Ammunitions. The judge recommended no bail bond for his temporary release. (PNA)