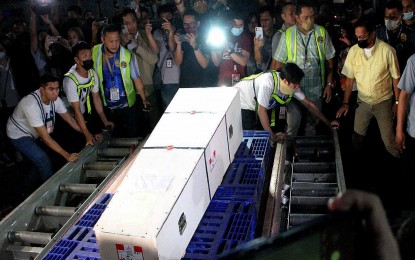 MANILA – The Kuwaiti minister of Foreign Affairs has condemned the murder of overseas Filipino worker Jullebee Ranara whose charred corpse was found in a desert.
In a news release, the Philippine Embassy in Kuwait said Sheikh Salem Abdullah Al-Jaber Al-Sabah had met with Chargé d'Affaires, a.i. Jose Cabrera III and condoled with the victim's family and the Philippine government over Ranara's death.
"He condemned her murder and said that the perpetrator, who has been arrested and is currently in detention, will be punished for this heinous crime," the embassy said.
Salem said the actions of the perpetrator "do not in any way reflect the character and values of Kuwaiti society, the Kuwaiti people, and the Kuwaiti government."
Cabrera expressed appreciation for the cooperation and help of Kuwaiti authorities, the swift action and response in the arrest of the suspect and in the clearances for the shipment of Ranara's remains.
Ranara's body was brought home last week.
The 17-year-old suspect, who is the son of Ranara's employer, was immediately arrested in less than 24 hours after the victim's charred body, with the skull smashed, was recovered by the Kuwaiti police at the Salmi, Al-Jarah Governorate on Jan. 21.
Kuwait's Ministry of Foreign Affairs will provide the Philippine Embassy with assistance as it continues to monitor Ranara's case, according to the embassy. (PNA)