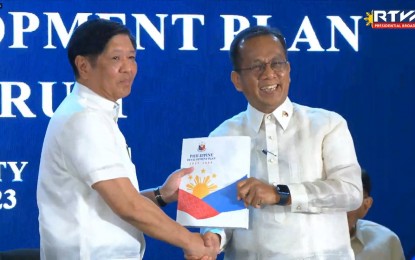 MANILA – President Ferdinand R. Marcos Jr. on Monday said he believes that finding ways to unburden Filipinos from their daily struggles remains the "defining challenge" of government.
He made this remark during his attendance at the Philippine Development Plan (PDP) 2023-2028 Forum at the Philippine International Convention Center (PICC) in Pasay City.
In his speech, Marcos welcomed the PDP 2023-2028 as an economic recovery plan that aims to "reinvigorate job creation, accelerate poverty reduction by steering the economy back on the high growth path and effect economic transformation."
He, however, noted the government could only fully realize its socio-economic goals once Filipinos are unburdened of their daily battles.
"We can talk about economic policies and obscure numbers and data as long as we want to but it is a life of the ordinary Filipino, more than just the numbers and the realm of data and statistics, it is something that is deeply personal to all of us, it is something that we know requires action," he said.
Marcos noted that the struggles of Filipino "run deeper than the bigger and macro problems that we in government encounter."
"Their struggles are embedded in their respected daily battles: How do I make ends meet? How can I bring food to the table? What is my future going to look like? Will my children live in a better Philippines and the one I grew up in?" he added.
He said the government's success will be measured by how well it will be able to respond to these questions.
Marcos said the PDP 2023-2028 not only sets the Philippines towards becoming an upper, middle-income country by the year 2025, but also focuses on social development and protection, disaster resilience, digital transformation, among others.
"I have great optimism as we set to implement the key points in our PDP from this day moving forward," he added.
Working together
Meanwhile, Marcos underscored the importance of joint efforts among national and local government, the private sector, civil society and every part of society to achieve economic transformation.
"We will continue to strengthen the cooperation between local and national governments as well as further boost partnerships between government and the private sector. Indeed, these are just among many points that will become the country's guiding light towards an economy that will work for every Filipino, especially those who need it most," Marcos said.
He enjoined all Filipinos to employ a whole-of-government and whole-of-society approach to effectively implement the development plan.
"After all the success of our government and our nation lies in all of us working together. We need to cooperate and collaborate so we can realize our goals moving forward," he added.
Marcos said their support was crucial in creating "an economy that works for everyone and gives every Filipino no matter their circumstances a better life."
"With your support, I am confident that we will be defined not by the challenges that we face but by the better days and the better future that we have brought," he added.
Earlier in the day, Malacañang announced that Marcos signed on Jan. 27 an executive order approving and adopting the PDP 2023-2028.
The PDP 2023-2028 is the second medium-term plan anchored on "AmBisyon Natin 2040" which seeks to "bring back the country to a high-growth trajectory and more importantly, enable economic and social transformation for a prosperous, inclusive and resilient society." (PNA)