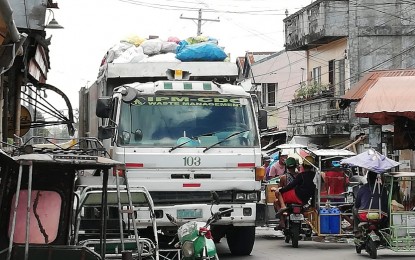 BACOLOD CITY – This city's garbage contractor, IPM-Construction and Development Corp. (IPM-CDC), is conducting a test run this week on the use of a global positioning system (GPS) application that would allow residents to track the progress of trash collection.
In a statement Monday, Mayor Alfredo Abelardo Benitez said the system will be launched publicly once the test run is completed.
"The public themselves would be able to monitor the movement of garbage trucks. You would see when they are on their way to pick up your garbage," he added.
Benitez said the management of IPM-CDC had earlier presented the plan on how the city and its residents can "secure and track the progress of garbage collection".
Through a GPS application, the system can give directions and locate the trucks, he added.
After the Christmas and New Year holidays, mounds of garbage have remained uncollected across the city as the volume of solid waste generated during the season exceeded what was set to be collected under the agreement between the contractor and the city government.
In December, the City Council approved Benitez's request for a four-month extension of the contract of services between the city government and IPM-CDC for garbage collection, hauling, and disposal after it was set to expire by the end of last year.
Along with it, IPM-CDC's contract for the management and operation of the sanitary landfill in Barangay Felisa was also extended for four months or until April 30.
As of Monday, the city's technical working group has been finalizing the terms of reference for the conduct of the bidding for new garbage collection and landfill management contracts. (PNA)