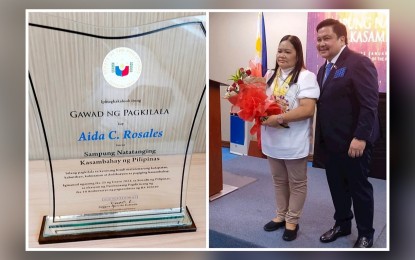 CEBU CITY – One of the 10 "Sampung Natatanging Kasambahay ng Pilipinas 2023" (10 Outstanding Domestic Workers of the Philippines 2023) awardee of the Philippine Senate has been serving a family in Talisay City in Cebu province for over 20 years and never left even in times of crisis.
Aida Rosales, 46, posted on her Facebook account a photo alongside nine other awardees who received recognition from Senator Jinggoy Estrada, chair of the Senate Committee on Labor, Employment and Human Resources, last week.
Estrada authored Republic Act 10361 or the Domestic Workers Act or populary known as the Batas Kasambahay.
"First time ko nakasakay ug eroplano. First ko ka-adto ug Manila. First time sadko katilaw ug makeup (It's my first time to ride an airplane. First time to be in Manila. First time to wear makeup)," Rosales said in a post.
Rosales was born with a deformed right hand but her employers commended her consistency for being efficient in cooking, cleaning the house, and doing the laundry.
She thanked her "alaga," (ward) Mark Angelo Rivera, for nominating her to the search, saying that boy was instrumental in getting the biggest achievement of her life.
"Akong pinakakamahal nga alaga Mark Rivera... ikaw ang pinaka rason nga na met ni nako ang opportunity nga naabot ni sa akong kinabuhi karon ug nagpatambok sa akong kasingkasing sa kalipay. I love you, Boy. Proud kasambahay. See u soon (My dearest ward Mark Rivera, you are the main reason that I have met the big opportunity that has come to my life today and make my heart full with happiness. I love you, Boy. Proud maid. See you soon," Rosales said in a caption of a photo of Rivera posted on social media.
Rosales, who remains single, has been taking care of Mark since he was a baby and she has been serving the family for over 20 years.
A loyal 'kasambahay'
Rivera said Rosales has always been with them and never left their abode even during the times when their family went through a tremendous crisis when he lost both his parents to cancer.
"When my parents were battling cancer, it was Ate Aide who took care of them. She never left us. And I value the time she's spent being with us. She's family to us. She's like a mother to me and she treats me as her own son. I thank her for all the love and selfless service she's given to us," Rivera said, as she cherished the times when he felt the love from the kasambahay who stayed by his side despite the circumstances that could have given her a reason to leave.
Department of Labor and Employment-Central Visayas OIC regional director Lilia Estillore lauded Rosales for being loyal to her employers despite the odds, which prompted the Senate to give the recognition.
Estillore told the Philippine News Agency that the Domestic Workers Act, or popularly known as Batas Kasambahay, institutes policies for the protection and welfare of domestic workers.
The law covers all domestic helpers engaged in domestic work, whether on a live-in or live-out arrangement who perform general house help, maid, cook, gardener, laundry person; working children or domestic workers 15 years and above but below 18 years of age, or any person who regularly performs domestic work in one household on an occupational basis.
On Jan. 18 this year, Rosales also emerged as the champion of the DOLE-7's search for 2023 Kasambahay Master Chef.
The nine other awardees from other regions were Luzviminda Alvarado (Albay); Jessa Bation (Iligan City); Mercedita Gaballo (Zamboanga City); Grace Gentapa ( (Davao); Eda Longanilla (Koronadal City); Meralyn Madria (Cagayan de Oro City); Virginia Magay (Makati City); Irma Pamposa (Pampanga); and Emilia Rodriguez (San Juan City).
The "Gawad ng Pagkilala" recognition was in line with the 10th anniversary of RA 10361.
Protection for kasambahay
Estillore said Batas Kasambahay that took effect on June 4, 2013 has provided ample protection for the rights of every kasambahay as the law recognizes for the first time that domestic workers are similar to those in the formal sector.
Under a joint memorandum circular (JMC), DOLE should oversee job placement for the kasambahay, while the Department of Social Welfare and Development, through the municipal or city social welfare officer, in coordination with concerned barangay officials, take charge of the rescue and rehabilitation of abused kasambahay.
The labor department also established other related mechanisms on the employment of kasambahay, such as wage setting, occupational safety and health, and recruitment regulations to ensure that pertinent provisions of the law are complied with. (PNA)