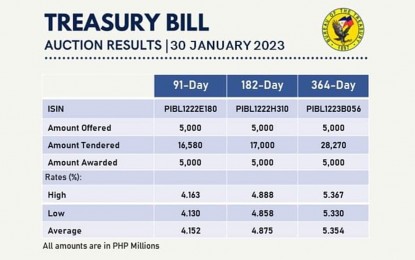 MANILA – Bureau of the Treasury (BTr) fully-awarded Treasury bills (T-bills) across-the-board on Monday due to strong demand and drop in rates.
It offered all tenors for PHP5 billion each and tenders for the 91-day paper reached PHP16.58 billion.
Also, bids for the 182-day paper amounted to PHP17 billion while it totalled to PHP28.27 billion for the 364-day T-bill.
Average rate of the three-month paper slipped to 4.152 percent, the 182-day to 4.875 percent and the 364-day's to 5.354 percent.
These were at 4.211 percent, 4.912 percent and 5.428 percent for the three-month, six-month and one-year securities during the auction last Jan. 23.
"Strong demand, lower rates resulting in full award across all tenors for T-bill offering today," National Treasurer Rosalia de Leon told journalists in a Viber message on Monday. (PNA)