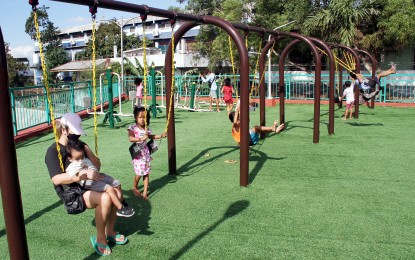 MANILA – The decrease in total fertility or the number of newborns in the Philippines is seen by the Commission on Population and Development (POPCOM) as a "demographic opportunity" to accelerate the economy.
Lolito Tacardon, POPCOM deputy executive director, said low fertility rate will eventually change the age structure of the population and increase the number of working-age individuals.
"Kung mas marami po ang pwedeng magtrabaho, less na po ang dependents na mga bata (If there is a bigger number of workers, there will also be less number of dependents). Then, if the working-age population would be employed, I think we have the so-called demographic dividend na mari-realize (that will be realized)," Tacardon said during Monday's Laging Handa public briefing.
However, he said the age structure should be reckoned with the programs of government agencies like the Department of Labor and Employment and Department of Social Welfare and Development.
The National Demographic and Health Survey conducted by the Philippine Statistics Authority last year showed that most teenage pregnancies occurred among 19-year-olds at 13.3 percent, down from 22.4 percent in 2017.
Those aged 18 followed at 5.9 percent, likewise down from 12.8 percent five years earlier.
A total of 27,821 women aged 15 to 49 were interviewed from May 2 to June 22, 2022, the 12th in a series of national surveys conducted every five years since 1968.
On the other hand, the University of the Philippines Population Institute's 2021 Young Adult Fertility and Sexuality Survey said childbearing among those aged 15 to 24 fell to 7.2 percent in 2021 from 14.4 percent in 2013.
The surveys were done at the height of the Covid-19 pandemic and will need further study and monitoring in the coming years.
POPCOM is implementing Executive Order 141, signed by former president Rodrigo Duterte, which aims to mobilize all government agencies and treat the incidence of adolescent pregnancy as a national priority.
POPCOM is mandated to come up with a comprehensive action plan by convening all concerned national government agencies to address the problem.
It includes the promotion of comprehensive sexuality education for the youth and their parents; strengthening of mechanisms for the adolescents to access reproductive health services; preventive mechanisms against sexual abuse and violence; improving socio-economic conditions; and community activities. (PNA)