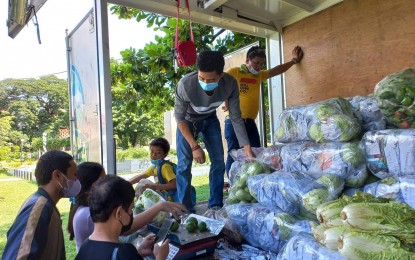 BAGUIO CITY – The Department of Agriculture (DA) will bring low-priced agricultural products and its information campaign to Sagada town in Mountain Province in time for the "Etag Festival."
DA-Cordillera's Regional Agriculture and Fisheries Information Service (RAFIS) chief Aida Pagtan said the Agribusiness and Marketing Assistance Division (AMAD) of the region is joining this year's "Etag Festival" from Feb. 2 to 3 as part of their effort to bring low-priced products as well as the department's services to the province.
Through the "Kadiwa ni Ani at Kita" program of the agency, highland and lowland vegetables as well as dried seafoods will be brought to Sagada using mobile Kadiwa trucks with a capacity of at least three tons. The trucks will likewise serve as the selling area upon arrival in time for the Etag Festival.
The "Kadiwa" is a program and activity of the DA to bring different low-priced agricultural products to localities for residents, especially in calamity-stricken areas, to buy.
"The agency wants to take advantage of the people's presence at the town proper who will be joining the celebration," Pagtan said.
Etag is Sagada's traditional way of meat preservation that has been passed on for generations. Its counterpart in Benguet is the "kinuday," which differs in color, aroma and manner of preservation.
Both are used interchangeably in cooking the traditional "pinikpikan" to add flavor to the soup. Etag is also served in different traditional ways of cooking like sauteed with onions and onion leeks capped with soy sauce.
Info campaign
For the information drive, AMAD is setting up a temporary information hub where it can disseminate to the residents its services, programs and projects, most especially the grant, donations, and other benefits that the residents can avail of.
The information hub will give details on the different agricultural programs particularly the agri-fishery credit programs, Young Farmers Challenge, and the Farmers and Fisherfolk Enterprise Development Information System (FFEDIS).
Pagtan said based on their experience in the previous years, village folks tend to participate in the festival's events, as these are heavily based on their culture.
In Ilocano, she said, "AMAD knows that there will be a lot of people in 'poblacion' (town proper) and that would be a timely occasion to disseminate the services of the agency."
The FFEDIS is the department's registry and is a web-based information system designed to guide in formulating plans and programs for enterprise development aside from encouraging key players in the value chain of priority commodities to plan and implement valuable interventions for agri-fishery-related enterprises. (PNA)