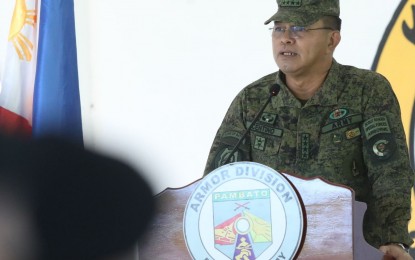 MANILA – Armed Forces of the Philippines (AFP) chief of staff Gen. Andres Centino called on troops to develop exemplary values and sharpen their skills to make the country's military world-class.
"It is not in the equipment that will make us world-class; it is in the attitude, values, and skills of our soldiers that will make us world-class," Centino said during his visit to the Philippine Army's Armor Division headquarters at Camp O'Donnell, Sta. Lucia, Capas, Tarlac on Monday.
He said he expects all Armor Division officers and personnel to fully support the AFP in all its mandates.
He also thanked Armor Division commander Maj. Gen. Facundo Palafox IV for the unit's outstanding performance all over the country and told them to carry on with their work.
During his visit, Centino inspected Armor Division's new assets, including the Sabrah ASCOD 2 and Pandur II tanks, upgraded armored combat vehicles and Simba fighting vehicles, which provide close and indirect fire support for the maneuvering unit.
These are part of the AFP Modernization Program aimed at improving the Army's capability to operate and integrate tanks in military operations.
Centino also highlighted the advancement of professionalism and meritocracy in the AFP by reminding military officers to lead their men efficiently and effectively.
He also urged commanders to be aware of their responsibilities and to visit their troops in the field.
"That is the only time when you're seen by your troops, that you give the motivation and inspiration for them to give their best also," Centino said.
He also touted the AFP's major accomplishments in combating threat groups in the country, including the communist insurgency which had been greatly reduced. (PNA)