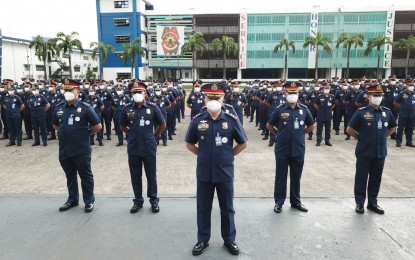 MANILA – A police lieutenant had filed an appeal questioning two decisions that caused his dismissal from the service for grave neglect of duty, claiming he was erroneously tagged as absent without leave (AWOL).
In an 11-page consolidated motion for reconsideration dated June 27, 2022 filed before the Philippine National Police (PNP), former Insp. Ricardo Luciano Jr. sought the reversal of Case No. 159-0818 dated Dec. 20, 2017 and Case No. 17-22 dated Feb. 24, 2018, that found him guilty of the administrative offense.
The respondent filed the appeal after returning to the Philippines from Australia on June 17, 2022, to process his request for the issuance of his service record for the commutation of his terminal leave benefits that he earned before his dismissal from the service.
The service record showed that the appeal he filed before the Department of the Interior and Local Government (DILG) asking for the dismissal of the robbery and carnapping cases filed against him in 2012, which had a final penalty of dismissal, had been dismissed and that he was only meted a 90-day suspension in return, which he served.
These charges stemmed from an earlier operation where he and other PNP members arrested Chinese nationals involved in the illegal drugs trade.
Luciano said this was verified by a cancellation of dismissal dated Sept. 6, 2016, coming from the PNP.
"Since respondent (Luciano) left the Philippines on August 2, 2016, he has never returned and just continued to work abroad so he can have his family get by with their daily needs. In fact, when respondent was able to work in Australia, he was forced to apply for a Bridging Visa which did not give him any travel authority or allowance to leave Australia," the motion read.
However, Luciano was ordered dismissed again in orders dated Feb. 24, 2018 and May 28, 2018 for being AWOL.
These orders only have a 10-day period for filing an instant motion and since the respondent was not in the Philippines at the time and was living in Australia, his chance to counter these orders lapsed unknowingly.
"During all these times, respondent was never informed, notified nor given news of the favorable result of his appeal that reinstated him to police service. There was never any call made informing him to report back for work and return to active duty. He left the Philippines hopeless of the wrong tenor of his undue dismissal from police service, with uncertain destination and disarray future as to how he can sustain the basic daily needs of his family," the motion read.
"Had he been informed of the same, he would have immediately left and beg Australia (due to his 'No Travel' facility) to return home and promptly report back to duty. Alas, only to find out that he was again erroneously dismissed from the service for AWOL," it added.
Luciano also claimed that he was not served all these documents which would have allowed him to return to the service with honor as he had no prior cases or infractions before 2012. (PNA)