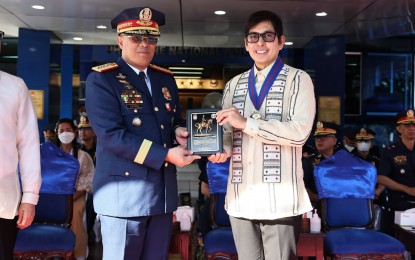 MANILA – Rep. Dan Fernandez of the lone district of Sta. Rosa City pledged continued support for initiatives aimed at upholding the welfare of the members of the Philippine National Police (PNP).
Speaking at the PNP's 32nd founding anniversary in Camp Crame on Monday, Fernandez said the House of Representatives is well aware of the needs of the police force.
He said they are committed to doing their part to ensure that needs such as free legal assistance, additional funds for the campaign against insurgency, strengthening the recruitment, selection, and appointment process of uniformed personnel, strengthening the charter of PNP Academy, permanent disability benefits, purchase discounts, and among others are properly addressed.
"The institution has indeed come a long way to emerge as one of the top government agencies with high trust ratings in recent years. This trust and respect of the community are no doubt hard-earned, borne from the blood, sweat, and tears of every member of the police force, some of whom we honor today," said Fernandez, chairperson of the House Committee on Public Order and Safety.
He also urged every member of the PNP to renew their commitment to their sworn solemn duty of upholding the law.
"I am supremely confident that the men and women of the PNP will rise and overcome these challenges and continue to be the reliable and trustworthy partner of the Filipino community in nation-building," Fernandez said.
Meanwhile, PNP chief Gen. Rodolfo Azurin Jr., in his welcome message, recognized the great courage and generosity that has propelled the police force to provide exceptional service to Filipinos for the past three decades.
"As the father of the PNP, I have been a witness to how everyone works hard, contributes, and do their shared responsibility and even in many instances went beyond the call of duty just to ensure the success of every mission," Azurin said.
Azurin also extended his gratitude to President Ferdinand R. Marcos Jr. and to the members of the Philippine Senate, Congress, and other state legislators as well as stakeholders from the private sectors, and provincial and local government leaders for maintaining their backing and ensuring the PNP's optimal performance.
"We cannot thank you enough for your generosity and kindness that allowed us to pursue our goal through the peace and security framework "M+K+K=K" or "Malasakit, Kaayusan, Kapayaan tungo sa Kaunlaran" and the "KASIMBAYANAN" Program," Azurin said.
The PNP chief also paid tribute to the valiant sacrifices made by those who died while safeguarding the nation against disorder and to the frontline workers who perished while serving on the frontlines during the onset of the coronavirus pandemic.
During the celebration, 17 PNP personnel were honored for their valuable contributions and outstanding achievements.
The PNP observes its founding anniversary every year to mark its creation under Republic Act 6975 on Jan. 29, 1991.
This year's 32nd PNP Founding Anniversary is celebrated with the theme "Patuloy na serbisyong publiko, Handog ng Pambasang Kapulisan na may Malasakit, Kaayusan, At Kapayapaan tungo sa Kaunlaran ng ating bayan". (PNA)