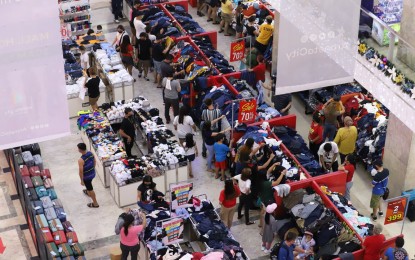 MANILA – Household spending in the Philippines is projected to expand by 5.5 percent this year, slower than the 8.2 percent growth forecast in 2022, the research arm of Fitch Ratings said.
In its report released Tuesday, Fitch Solutions said household income growth will support consumer expenditure in 2023, allowing Filipino households to spend despite the elevated inflation numbers.
"We expect household income growths to outpace consumer price inflation in 2023. This will ensure real income growth and greater potential for consumer spending," Fitch Solutions said.
The report said its consumer spending forecast is in line with the Philippine economic growth, which is expected to ease from 7.4 percent in 2022 to 5.9 percent this year.
"The slowdown in growth was in line with expectations, but the pace of deceleration was more modest than predicted. Elevated energy prices and tightening monetary policy will result in further deceleration during the forecast period," it added.
For the medium term, Fitch Solutions forecasted consumer spending to average 5.1 percent annually from 2024 to 2027.
It added consumer confidence, though it remained negative since 2020 amid the pandemic, has shown signs of improvement.
Consumer confidence index stood at -14.6 in the fourth quarter of 2022 from a peak of -54.5 in the third quarter of 2020.
"Consumer confidence has improved in line with the economic recovery from the effects of the pandemic," Fitch Solutions added.
Employment, household income
The research group said the country's strong labor market has been a major driver of consumer spending expansion last year, which is expected to continue this year.
"Many markets have boasted significantly strong labor markets post-Covid (coronavirus disease 2019), driven by rapid economic recoveries, both locally and globally. Additionally, governments have been very supportive of local labor markets, resulting in significantly tight markets that have pushed up nominal wages," Fitch Solutions said.
For the full year of 2023, Fitch Solutions projected the unemployment rate to settle at 5.4 percent.
"Remittances are an important source of income for many households in the Philippines, and the demand for overseas Filipino workers continues to increase globally. In particular, there is a demand for Filipino workers skilled in jobs related to medical and health services, construction and housekeeping," the report read.
However, it cited several risks to this income over the year that are mostly related to rising inflation across the world. (PNA)