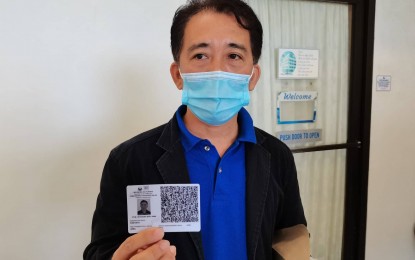 DUMAGUETE CITY – The Philippine Statistics Authority (PSA) has reported that 80 percent of Negros Oriental's population has registered for the national ID.
In an interview on Tuesday, Chief Statistical Analyst and head of PSA-Negros Oriental, Ariel Fortuito, spoke of the challenge of reaching out to the remaining 20 percent so they would sign up.
"We are doing everything we can, such as setting up satellite registration outlets and house-to-house visits, to locate and sign up the remainder of the population in Negros Oriental to the national identification system, as the campaign has slowed down a bit," Fortuito said.
As of Jan. 30, a total of 1,017,903 individuals, aged at least five years, have registered with the Philippine Identification System (PhilSys), PSA-Negros Oriental records showed.
This represents 80.47 percent of the 1,432,990 population of the province based on the 2020 Census on Population and Housing.
Of Negros Oriental's six cities and 19 municipalities, the capital, Dumaguete, had the highest number of registrants at 106,857 (or 90.94 percent of its 134,103 population); followed by Jimalalud, 25,072 (87.84 percent of 32,256); Pamplona, 30,302 (85.98 percent of 39,805); Guihulngan City, 77,615 (85.8 percent of 102,656); Manjuyod, 33,383 (84.4 percent of 44,799); Bayawan, 90,774 (83.84 percent of 122,747); Tanjay City, 61,121 (83.84 percent of 82,642); Zamboanguita, 20,556 (83.3 percent of 29,569); and Tayasan, 28,077 (83.11 percent of 38,159).
The rest had a registration of 82 percent or lower.
Fortuito reiterated his appeal to the local government units (LGUs) to help the PSA locate and encourage their residents to sign up for the national identification system, hoping to achieve the target by year-end. (PNA)