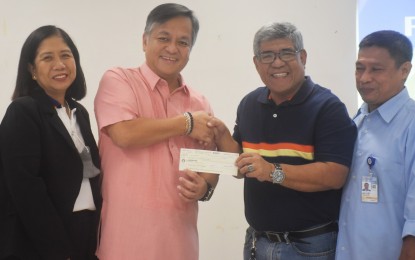 LEGAZPI CITY – The Department of Science and Technology in Bicol (DOST-5) has turned over a PHP160,000 fund to Bicol University (BU) for its Innovations for Women Enterprises (iWOMEN) and Innovations for Filipinos Working Distantly from the Philippines (iFWD PH) programs.
Lhea Dyn Bellen, DOST-5 Science research specialist, in a message sent to the Philippine News Agency, said the fund will be used for business capability building for women micro-entrepreneurs as beneficiaries of iWOMAN projects.
"iWOMEN is a DOST-5 initiative to support women micro-entrepreneurs in the Bicol Region while iFWD PH is a program of DOST that aims to provide opportunities to overseas Filipino workers (OFWs) and their families to establish technology-based enterprises here in the country," she said.
In a statement, DOST-5 Regional Director Rommel Serrano commended BU for being one of the biggest contributors to the region's gains in research and development by educating future professionals and entrepreneurs.
On behalf of BU president Dr. Arnulfo Mascariñas, Dr. Luis Amano, vice president for Research, Development and Extension, extended his gratitude to DOST-5 for its trust in partnering with them for the implementation of these projects.
"Bicol University, through its technology business incubator, will lead the capability training program to support women and OFWs in the region who would like to form part of the many businesses in the industry. The fund will be used for making modules, as an honorarium for resource persons and module writers. It is a requirement of DOST, that future beneficiaries of different projects must undergo capability building before they will receive funding for their business establishment," Amano said in a text message.
The fund release on Monday was followed by a short meeting between BU and DOST-5 teams to plan for upcoming undertakings, such as the proposed "writeshop" and business pitching. (PNA)