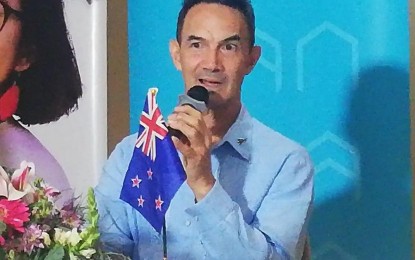 BAGUIO CITY – New Zealand Ambassador Peter Kell urged young Filipinos who want to pursue masters and doctorate studies to avail of their government's annual scholarship program in select fields.
"This is the perfect time to be with you to relay the opportunities for Filipinos to study in New Zealand," Kell said fluently in Filipino.
Kell was in the city on Monday where he met with select members of the media to talk about the New Zealand Manaaki scholarship program, which he said had been existing for about 50 years.
"An opportunity to study in New Zealand is not just an opportunity to develop your knowledge, skills, and your areas of interest academically speaking but to gain the world view of different people in a different country," the envoy said.
Sixteen individuals will be selected for the scholarship program, which will start in January 2024.
Dyan Mabunga Rodriguez, New Zealand aid manager, said during the event that the scholarship grant will be sufficient for the living and education expenses of the scholars.
A qualifier will also be allowed to bring their family along and send their children to school in New Zealand.
Kell said about 2,000 Filipino individuals have so far benefited from the scholarship.
"As we all know, we are very much in a global village, in a global community and we know our challenges with nature to truly solve it, climate change, we need to develop global solutions and global solutions cannot come from one people, one country, one government alone. They need to draw on the various world views that each of us represents not just in terms of our country but also the people in many other countries," he said.
He said their country gives importance to indigenous peoples' knowledge and practices, which he said have been proven to bring positive gains to their country.
"I am delighted to be here in Cordillera because like New Zealand, you have a very, very rich and vibrant indigenous heritage and that heritage represents many different world views. I believe that as a representative of New Zealand, one of the interesting things that our country is trying to do now is to draw on our indigenous heritage to help solve more global problems not only for our country but the international community," Kell said.
"I think that of all the people in the Philippines, you who live in this region will probably understand because you rest on indigenous heritage. So go to New Zealand, get the qualification in an area of academic interest to you, and also get to see how a place like New Zealand sees the world, get to see how NZ solve its problems, get to see how New Zealand draws from tradition and heritage to deepen and broaden their world view and see what you can learn and apply back here in the PH and the story behind the cultures that for me is the message that I want to share to you today," he added.
Interested applicants must not be over 40 years old. More information is available on the New Zealand Embassy's Facebook page. (PNA)