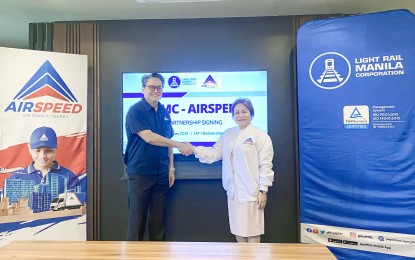 MANILA – The country's first smart locker system, where users may rent a locker to receive packages without contact, will soon be available in all stations of the Light Rail Transit Line 1 (LRT-1).
In a statement on Tuesday, the Light Rail Manila Corporation (LRMC) -- the operator and maintenance provider of the LRT-1 -- announced its partnership with logistics company Airspeed Group of Companies (Airspeed) to pilot the "PopBox" smart locker system -- currently present in key cities in Indonesia and Malaysia.
"PopBox smart lockers will be located in all 20 LRT-1 stations, and will offer efficient and contactless delivery service for the benefit of commuters who wish to use LRT-1 stations as their pick-up point for packages," the LRMC said.
The smart locker system is scheduled to be launched in February.
Aside from making deliveries more convenient, it said the system will also allow for easier consumer package returns as part of the phases of the partnership.
The partnership was signed on Monday between LRMC president and CEO Juan Alfonso, LRMC head of business development John Kelly Tan, Airspeed Group chairperson Rosemarie Rafael, and Airspeed International president and CEO Mariz Regis.
Airspeed is a corporate logistics company focused on freight forwarding solutions, customs releasing, customized logistics, warehousing and distribution, and dedicated demand.
On the other hand, PopBox Asia has been in operation for five years and is present in 350 locations across Indonesia and Malaysia. (PNA)