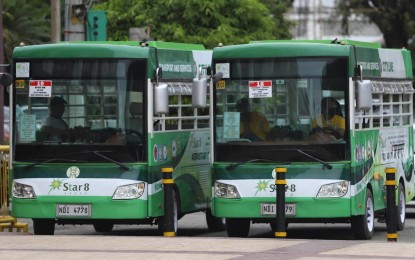 ILOILO CITY – This city is one of the four pilot areas in the country for environment-friendly modernized jeepneys that run using electricity rather than conventional engines using gasoline and diesel.
These will still be on a test run for one to three months, said Engr. Rowen Gelonga, regional director of the Department of Science and Technology (DOST), who joined the Land Transportation Franchising and Regulatory Board (LTFRB) in presenting two of the 10 modernized electric jeepneys (e-jeepneys) to Mayor Jerry Treñas on Monday.
"It will be a more comprehensive test. We look not only their chemical performance but also feasibility on financial aspect and if found to be profitable then we can go full blast in promoting as part of modernized PUVs in Iloilo City," he said in an interview on Tuesday.
The use of the electric vehicle (e-vehicle) is part of the PUV (Public Utility Vehicle) Modernization Program of the Department of Transportation.
They will be assisted by a technical team from the United Nations Development Program (UNDP) to test the technical and commercial viability of the e-vehicles for public transport, Gelonga added.
Jeck Conlu, head of the Public Safety and Transportation Management Office (PSTMO), said the UNDP has provided the city with technical assistance in crafting policies and programs to promote environment-friendly transportation.
Meanwhile, Gelonga said they partnered with the UNDP and the DOTr in the performance testing and the rollout of new technologies because their department is conducting activities related to the development of e-vehicles.
He said Iloilo City is also one of their target areas for developing fast-charging stations for e-jeeps in partnership with the University of the Philippines-Diliman.
"We hope this will be reintegrated in the program of UNDP and DOTr to promote the use of electric vehicles in the public transport system," he added.
The e-jeepneys currently ply from the Tagbak terminal in the Jaro district to the city proper. (PNA)