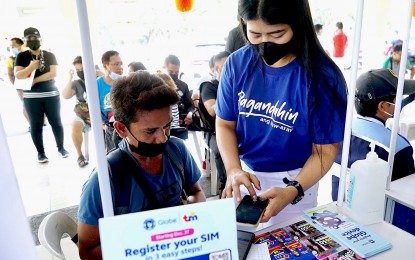 MANILA – The Department of Information and Communications Technology (DICT) has ramped up its subscriber identity module (SIM) registration campaign at the grassroots level by partnering with local government units (LGUs).
Undersecretary Anna Mae Yu Lamentillo, DICT spokesperson, said several mayors have committed to support the SIM registration by encouraging their constituents and cascading information to communities.
"Just yesterday (Monday), I met with the Association of Chief Executives of Negros Occidental in the City of Victorias," Lamentillo said in a statement on Tuesday.
With the program now on its second month, she said a lull in SIM registrations is expected, with another surge to come once the April 26 deadline nears.
"That is why our information campaign has been non-stop to encourage people to register now," she said.
To help address the expected downturn, she said assisted SIM registrations in remote areas have started but not all 169 million active mobile subscribers are expected to register.
"We expect that those SIM cards which were used in scams, cybercrimes and the like would not be registered and there are subscribers who would opt not to register for personal reasons," she said.
As of Monday, data showed 27,349,056 SIM cards have already been registered or 16.19 percent of the 168,977,773 million active subscribers.
Smart Communications reported a total of 14,014,800 registered SIM cards or 20.61 percent of its 67,995,734 subscribers; Globe Telecom 11,160,915 registered or 12.7 percent of its 87,873,936 subscribers; and DITO Telecommunity 2,173,341 registered or 16.58 percent of its 13,108,103 subscribers. (PNA)