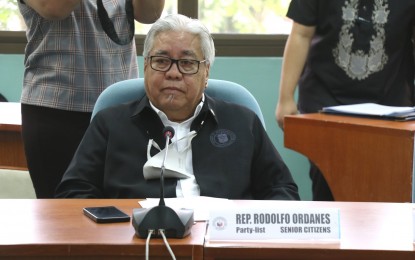 MANILA – A party-list lawmaker on Tuesday lauded the Bureau of Internal Revenue (BIR) by making the filing of value-added tax (VAT) returns quarterly instead of monthly.
Senior Citizen Party-list Rep. Rodolfo Ordanes said the new BIR policy will simplify and make it easier for micro, small and medium enterprises (MSMEs) to comply with tax filing requirements.
Ordanes said the BIR could continue making tax compliance easier with the creation of mobile app versions of the BIR tax form so that it would be more accessible for ordinary MSME owners without a college education to understand the ways how to complete and file their income and business taxes.
"Many MSME owners, including online sellers are unaware of the low tax rate 3 percent for business income of less than PHP3 million in one taxable year, of how to get their Taxpayer Identification Number and IDs, and of the online means of filing tax forms," he said.
He said the BIR should coordinate with several Negosyo Centers to make it more convenient for MSMEs and compensation-only earners to file tax forms.
He also suggested that the BIR should work with state universities and colleges to produce more Certified Tax Technicians from among the thousands of business course graduates.
"With the TESDA (Technical Education and Skills Development Authority), the BIR can promote the technical-vocational bookkeeper courses among senior high school students, especially those who take the Accountancy, Business, and Management Strand in Grades 11 and 12 of senior high," he said.
The BIR Revenue Memorandum Circular (RMC) No. 5-2023 was issued on Jan. 13, 2023, which provides the Transitory Provisions for the implementation of the quarterly filing of VAT Returns starting on Jan. 1, 2023 pursuant to Section 37 of Republic Act 10963 (TRAIN law), amending certain provisions of Section 114(A) of the Tax Code of 1997, as amended, and as implemented under Section 4-114-1(A) of Revenue Regulations 13-2018. (PNA)