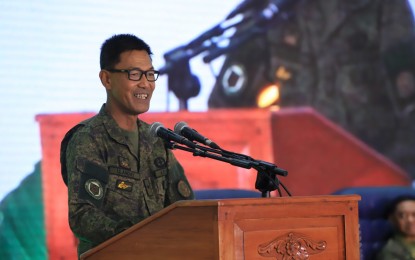 MANILA – The Philippine Army (PA) on Wednesday announced that Brig. Gen. Rogelio Ulanday has been appointed to head the Tarlac City-based Army Support Command (ASCOM).
He replaces Maj. Gen. Glenn E. Cruz who retired on Jan. 30 after 37 years of military service.
Ulanday, who served as ASCOM deputy commander since October 2020, has a vast experience in military logistics, PA spokesperson Col. Xerxes Trinidad said.
ASCOM is tasked to cater to the major PA units' requirements in terms of firepower, transportation, organizational, and equipment maintenance.
"He held key leadership positions throughout his career, such as AFP quartermaster general; group commander of the 1st Logistics Support Group, ASCOM; command inspector general of ASCOM; executive officer of the Armed Forces of the Philippines (AFP)'s office of the deputy chief-of-staff for logistics; 5th Infantry Division inspector general; and chief of the office of the Army Chief Ordnance and Chemical Service," he added.
Ulanday is a member of the Philippine Military Academy (PMA) Class of 1990. He holds a master's degree in Public Management Major in Development Security from the Development Academy of the Philippines (DAP).
Meanwhile, Cruz served as the unit's deputy commander from November 2018 to February 2020 before being appointed as ASCOM chief in the same year.
He held other key logistics posts such as assistant chief-of-staff for logistics, PA; assistant chief-of-staff for logistics, ASCOM; and acting chief-of-staff of the AFP Philippines procurement service.
Just like his successor, Maj. Gen. Cruz belongs to the PMA Class of 1990. He holds a master's degree in Management Major in Public Administration from the Philippine Christian University.
PA chief Lt. Gen. Romeo Brawner Jr., who led the change-of-command ceremony, lauded Cruz for his vast contribution to the Army as an outstanding logistician.
"He lauded Maj. Gen. Cruz for steering the command, especially in the hauling of aid for calamity-stricken families across the country. The Army chief also led ASCOM officers and men in welcoming Brig. Gen. Ulanday whom he described as a general officer who is cut out for the job of leading ASCOM," Trinidad said.
Also on Jan. 30, Brig. Gen. Alvin Flores assumed as the acting commander for the Training and Doctrine (TRADOC) during short ceremonies at Camp O'Donnell, Santa Lucia, Capas, Tarlac.
He replaces Maj. Gen. Peter Angelo Ramos who retired after nearly four decades of service.
Before his appointment, Flores was TRADOC deputy commander and commanded other units such as the Doctrine and Capability Integration Center; assistant chief-of-staff for civil-military operations and assistant chief-of-staff for personnel of the 5th Infantry Division; and commander of the 17th Infantry Battalion.
Flores is a member of PMA Class of 1992 and holds master's degrees in Business Administration from De La Salle University; Public Management from the DAP; and National Security Administration from the National Defense College of the Philippines. (PNA)