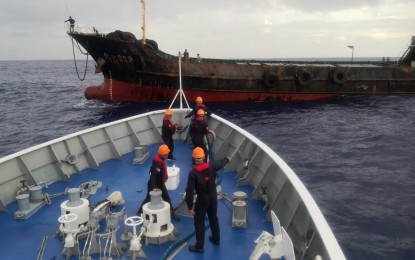 TACLOBAN CITY – Eastern Samar Governor Ben Evardone has called for an investigation into a Chinese vessel that reached the island village of Suluan in Guiuan town.
In an interview Tuesday night, Evardone said that a probe is necessary since people have been casting doubts on why the vessel with seven Chinese crew sailed to the territory of Eastern Samar.
"If they have no fishing gear, what are they doing in Eastern Samar? We want an answer to this question since they are in our territory," Evardone told the Philippine News Agency.
The official raised the question a few days after the Philippine Coast Guard (PCG) rescued a Chinese vessel with a damaged hull in the waters off Suluan Island, Guiuan, Eastern Samar on Jan. 27. It was towed to Port of Tacloban on same day.
"The result of the investigation will clear these Chinese sailors from suspicion. Just like other people, I have been asking why the vessel reached Suluan," Evardone added.
Suluan is an island village in Guiuan, Eastern Samar. It lies east of Leyte Gulf and west of the Philippine Trench.
On Jan. 28, the PCG inspected the vessel FV Kai Da 899 at the Tacloban port anchorage area and found no fishing gear. They only saw fuel tanks with diesel.
Joining the PCG during the inspection were representatives from the Bureau of Customs and the Bureau of Immigration.
While the vessel is in the vicinity of Tacloban seawaters, the PCG will regularly conduct patrols to ensure the safety of the vessel and its crew. (PNA)