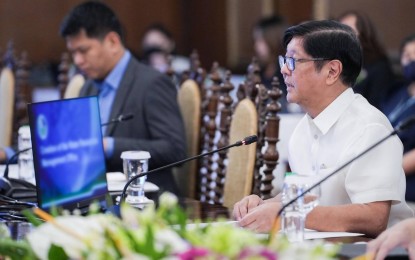 MANILA – President Ferdinand R. Marcos Jr. on Wednesday approved the creation of a Water Resource Management Office (WRMO) to manage the country's water resources and respond to the current environmental challenges.
In a news release, the Presidential Communications Office (PCO) said Marcos approved the WRMO during a multi-sectoral meeting with officials of the Department of Environment and Natural Resources (DENR).
The WRMO, which will be under the DENR, will be a transitory body pending the creation of a Water Resources Department.
Its main functions include formulating and ensuring the implementation of the Integrated Water Management Plan (IWMP), which will integrate various plans of different agencies.
The IWMP, which will serve as the main guiding document for the WRMO, will respond to the current environmental challenges and manage water resources through a concerted government effort engaging various sectors.
The WRMO will also be tasked to champion, together with the Presidential Legislative Liaison Office (PLLO), the passage of a law creating an apex body; collaborate closely with all relevant agencies, including local government units (LGUs), private sector, civil society and the communities; as well as perform other functions under the DENR.
According to the PCO, an executive order (EO) will be crafted to enable the National Water Resources Board (NWRB), Metropolitan Waterworks and Sewerage System (MWSS) and Local Water Utilities Administration (LWUA) and the other water-related agencies of the DENR to have a collaborative mechanism under the WRMO to implement water management programs.
Marcos suggested that the WRMO's first action should be reducing the country's reliance on groundwater and deep wells and managing surface water supply.
"That's as far as I could tell. There's enough water in the Philippines hindi lang natin ginagamit, tinatapon natin (it's just that we're not using it, we're throwing the supply away)," he was quoted as saying.
He, likewise, underscored the need for a plan that will serve as a roadmap for waste management agencies.
"Kaya nga kailangan sumunod sa plano (That's why we need to stick to the plan). That's why we have to strengthen the mandate of the Water Management Office. We have to bring them together so that they are all following the overall plan," he said.
"So that whatever the relationship we come to with MWSS, LWUA, and the Water Board, DENR and this new Water Management Office, it has to be cohesive in the sense that kailangan 'yung recommendation ng management office sinusundan (the recommendation of the management office would be followed)," he added.
Water is crucial to food security and supporting cities and urban growth.
Based on government data, irrigation accounts for a 35.6 percent contribution to the agriculture sector's Gross Value Added.
The Philippines ranks among the world's rapidly urbanizing countries, with over 47 percent of its population living in cities in 2021, requiring large water projects, including bulk water supply and sanitation infrastructure.
It also has a significant part in the country's energy mix, as hydropower represents 7 percent of the total energy production in the country, and its contribution can be increased by as much as 15 percent by 2030. (PNA)