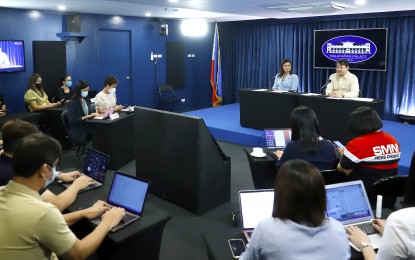 MANILA – The deportation of Japanese nationals behind a robbery ring in Japan is a consular matter already being handled by Manila and Tokyo, and would not be raised during President Ferdinand R. Marcos Jr.'s upcoming visit to Japan.
Foreign Affairs Assistant Secretary Neal Imperial said the Department of Justice (DOJ) continues to work on the case with the Japanese government, which had earlier asked the Philippines to deport four people.
"We don't think it will affect in any way the visit of the President and we don't expect it to be raised during his meeting with his counterpart," he said in a Malacañang presser on Wednesday.
Imperial said Manila would follow the timeline of deportation proceedings in accordance with domestic laws.
Japanese media had reported that the suspected mastermind Yuki Watanabe, also known as "Luffy", had allegedly directed the break-ins in Japan using an encrypted messaging app while detained at a Manila immigration facility.
On Tuesday, the Department of Justice (DOJ) said it sought to deport at least two of the four by the end of the week.
Japanese probers invited
Meanwhile, the DOJ confirmed that Japanese investigators have been invited to conduct a forensic examination of the six mobile phones confiscated from the four detained Japanese nationals at the Bureau of Immigration's (BI) jail facility.
DOJ spokesperson Assistant Secretary Mico Clavano said a request by the Bureau of Immigration (BI) for the National Bureau of Investigation (NBI) to conduct its own forensic investigation on the phones has been turned down as the same would require a court order if done by Philippine authorities.
"As to that, the offer is still there for the Japanese government to come and send their police to conduct forensic examination on the cellphones. Although no firm schedule or firm arrangement has yet been set. However, we have already segregated all the cellphones that have been confiscated. We segregated them by the person who owns the cellphones so that it's kept and preserved for the Japanese Embassy and the Japanese government to inspect and do an examination," Clavano said.
Clavano also confirmed that measures have been undertaken to tighten security at the BI facility.
"An order was issued yesterday by the commissioner of immigration segregating now the fugitives from the non-fugitives in the Bicutan Immigration detention center," he said.
Clavano also said prosecutors have been informed to ascertain if the pending criminal cases against the BI detainees are "contrived" merely to prevent the deportations.
The Japanese government has requested that all four Japanese detainees be deported at the same time, Clavano said.
In a chance interview with newsmen, Justice Secretary Jesus Remulla said they are still unsure if the deportations may be undertaken in time for President Ferdinand Marcos Jr.'s visit to Japan this month. (PNA)