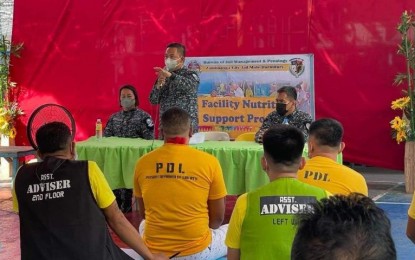 MANILA – Bureau of Jail Management and Penology (BJMP) chief Jail Director Allan Iral on Wednesday lauded the anti-drug campaign of Zamboanga City Jail Reformatory Center and the expansion of welfare and development programs in the facility.
"We take cognizance of the intensified anti-drug campaign and welfare programs for persons deprived of liberty in our biggest facility in Western Mindanao. These efforts are important, especially in large facilities like Zamboanga City Jail," Iral said in a statement.
After recording the biggest joint OPLAN Linis Piitan operation, law enforcement agencies seized a total of 575 pieces of illegal and nuisance contraband from the facility.
The conduct of a surprise drug test by the Philippine Drug Enforcement Agency (PDEA) Region-9 to all unit personnel and 444 randomly selected PDLs with their cell leaders yielded a negative result.
Zamboanga City Jail Reformatory Center warden Jail Supt. Xavier Solda said that they will continue the conduct of surprise drug tests among personnel and to randomly select PDLs who will undergo the test to make sure that the facility is drug-free.
"We have a solid stance against illegal drugs and other forms of contraband kaya hindi po kami magpapatinag dito (we will not be moved here)," he added.
Meanwhile, 72 PDLs were released from the facility through intensified paralegal support service in Zamboanga City Jail for the month of January.
"We are hoping that more than a hundred more will be released in the next two weeks as we continue our coordination with the courts to decongest our facility which is now 1,064 percent congested," Solda explained.
The reformatory center recently launched the Green Zamboanga Project which aims to establish a jail nursery for vegetable seedlings in the facility as a source of income among PDLs on top of other newly created livelihood programs in the facility.
In terms of health support, the facility continuously monitors sickly and malnourished PDL including senior citizens who were enrolled under the Facility Nutritional Support Program. (PNA)